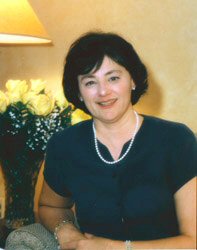 Debra Puglisi is the author of Shattered- A Life Torn Apart by Violence as well as the Survivor of this real life account of her life before, during and after, tragedy struck her life.
Debra, a wife, nurse and mother of teenage twins came to live every woman's nightmare. Tending to her Rose Garden in the middle of a Sunny Afternoon, with her neighbors outside and her husband taking a nap, a factory worker with a crack cocaine habit, slipped through an open door and waited to attack tbis unsuspecting family.
Debra was beaten, raped, hogtied and taken away from her home. Her husband was shot and killed.
This is her tale of her 5 day ordeal at the hands of her attacker, her escape and her agonizing journey back to living and love, in this incredible tale of love, hope, determination and courage.
Today, Debra wants other victims of violence to know that there is LIFE after the psycological and emmotional death and that she is living proof that life does go on. If there ever was a testament to how Unstoppable we really are, Debra is living proof.
Return to the Mission Unstoppable Podcast Page