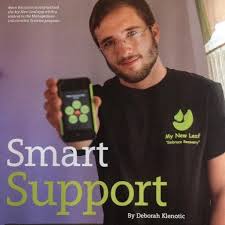 Ryan Brannon, is the CEO of My New Leaf, a bleeding edge technology company that has created and designed a gamified, web-based, addiction recovery app, especially appealing to the millennials.
The app draws heavily on evidenced-based best practices and theoretical perspectives which the team gathered during design phase, after consulting with local, state and national recognized leaders in the substance abuse and addiction. Their web-based app is also being designed to deploy on iOS and Android mobile devices.
My New Leaf is a team of eight students from Indiana University of Pennsylvania and Penn State University that represents completed degrees or majors in Information Sciences, Information Assurance, Gaming, Sound engineering, Communications Media, Graphic Arts, Journalism and Business Management.
They won the "Sharktank" contest at IUP University and were awarded office space and some start up cash at the Indiana County Small Business Incubator facility.
Since then they have raised over $6,000 from sponsors and in advance of our crowd source funding drive to fully capitalize the venture. We have recently filed as a 501c3 nonprofit corporation in Pennsylvania.
Joining Ryan will be Dr. Steve Kuniak, who has a PHD in Clincial Practice Psychology and whose under grad was in 'Geek Culture' – his thesis on the effect of exposure to fantasy heroes on resiliency.
Return to the Mission Unstoppable Podcast Page