Arriving at her 78th year, Dr. Gayle Carson shows no sign of slowing down. She exercises 2 hours a day, facilitates, 2 Mastermind groups, writes her blog and hosts her own radio show, Living Regret Free. She is the author of several books including,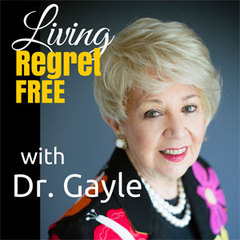 "Big Ideas for your Business,"
"Winning Ways," and her book "How to Be an S.O.B--A Spunky
Old Broad Who Kicks Butt." Is now in its 3rd Printing.


"So what are you going to do about it, Gayle?"
These are the words from Gayle Carson's upbringing that have kept her going for her entire professional career. Through endless exciting and adventurous moves, she knew one thing at a young age, that she was born to coach entrepreneurs.
Possessing that "silver lining mentality" has allowed her to build a company from 0 to 7 offices, travel globally as an international speaker, coach and consultant and produce over two dozen books, CD and DVD programs while working with over 1000 clients in 50 different industries.
The past years weren't child's play however. Surviving three bouts of breast cancer and 16 surgeries, experiencing the death of her husband and oldest son was not easy to say the least. Throughout all the cancer she kept working, even during radiation and chemo as Dr. Gayle believes we are all survivors in one form or another.
This attitude transfers over to the mastermind groups and individual coaching and mentoring she does with her clients so they not only survive but flourish and reinvent themselves personally and professionally.
As an expert advisor to CEO's and entrepreneurial managers around the world, she has been called on by major media to comment on business, communication and service issues. A specialist in boomer women and beyond, she helps them deal with eldercare issues, feeling invisible, self-esteem and most important, knowing they can become whatever it is they want to be.
Return to the Mission Unstoppable Podcast Page