This week we're talking about you because you are the person who can have the largest and fastest impact on your happiness for the holidays and everyday. We'll be talking about how you determine your own happiness with simple tips and strategies for being happier more often.
We'll be taking a deep dive into our mindset with The Mindset Diva, Carla Wynn. She'll be sharing what, why and how of our mindset. We'll be asking her about common struggles and tips for handling them. And we'll see just how powerful our mind is as well as what effect it can have on our lives.
In Christmas Corner we'll be taking a peek at your holiday and a simple technique for discovering the path to designing the Christmas you truly want in your heart.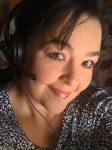 Carla Wynn is the CEO of Mindset Diva and also a Business Strategy Coach. She has been a graphic artist and web designer for over 20 years, homeschools her two sons and has helped 100's of people change their lives by changing their minds. Through the use of the Internet and Social Media her outreach provides education, information, inspiration and empowerment to men and women all over the world. She is the founder of the Women's Empowerment Network with over 300 Women Leaders, Life Coaches, Spiritual Guides and Empowered Entrepreneurs. Leading the way for others to become the best they can be by removing blocks, allowing abundance and engaging in self love, we are proud to have on our show Ms. Carla Wynn.
Return to the Heart Filled Holidays Show Page
Link to Article