This week's show is all about gratitude. This is the second show in our Holiday Business series where we talk about things of interest to business owners. Whether you work part-time from your home or run a medium sized company you'll want to tune in. We'll be looking at ways to strengthen and grow your business while staying happy and enjoying your own holiday season.
Lori Saitz, founder and owner of Zen Rabbit Bakery, will be joining us to discuss ways we can use simple gratitude to grow our business and increase our bottom line. So be sure to let your friends and associates know about this special broadcast.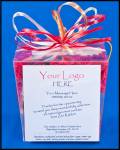 Lori Saitz incorporated Zen Rabbit in 2003 when she decided to put a family cookie recipe to work for her. With no intention of creating just another cookie company or becoming "the next Mrs. Fields," she set out to build Zen Rabbit as a marketing company specializing in helping business professionals "multiply profits through sweet appreciation." What's become known as The Gratitude CookieTM is the main tool used to do that.
The company ships customized Gratitude Cookie packages and other special products to customers worldwide and Lori's reputation for going above and beyond on behalf of her clients is well known. Her success has led to many requests to share her knowledge with other start-up food entrepreneurs and she recently created and hosts a workshop called "You Should Sell That - Creating a Wildly Successful Business from Your Family Recipe".
Lori writes monthly articles for WomenGrowBusiness.com and posts semi-regularly on her own blog, RabbitRouser.com. She also delivers an entertaining and inspirational presentation called "The Little Known Secrets of Gratitude and Reciprocity and How They Can Positively Super Charge Your Profits!"
Return to the Heart Filled Holidays Show Page
Link to Article