Today we're covering Halloween including green ideas and alternative celebrations for those who don't want to celebrate Halloween. We're also bringing back Kathleen Ellis to talk to us about a totally beautiful life and the new event she created with me called Your Beautiful Holiday. Then we'll wrap things up in Christmas Corner with some fun gift ideas and general holiday tips and inspiration for a light and fun look at Christmas.
It'll be a full and fun show so be sure to tune in! And if you're listening live you can ask questions in the chat room and we'll try to answer them on the show.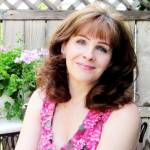 Kathleen Ellis, Lifestyle Designer, decorator, speaker, writer and TV personality, specializes in teaching you how to create a life of TOTAL BEAUTY which includes Inner Beauty, Outer Beauty and Surrounding Beauty. Kathleen believes your unique sense of style should be reflected in your life choices & mindset, your wardrobe and your home. She is an expert at motivating and inspiring you to create the Beautiful Life you dream of and to bloom into the Beautiful Woman you were created to be.
For 5 years, she was the featured lifestyle expert on CBS affiliate WHP-TV in Harrisburg, PA. As a successful Interior Decorator for over 16 years, she has been featured in several publications including Romantic Homes, Chesapeake Home, Central PA and Harrisburg magazines. Kathleen enjoys sharing her passion for creating romance, beauty and elegance in every area of life. Kathleen presents workshops on various Lifestyle topics. Through a unique event she created, The PINK Tea Experience, she challenges women to take time to reconnect, renew and relax, celebrating the beauty of life! Kathleen inspires and motivates her audience to dream and to step out of the box to make those dreams come true.
Return to the Heart Filled Holidays Show Page
Link to Article