Do you ever find yourself struggling to maintain your holiday traditions? Are life's changes challenging your celebrations? We've all experienced change in our lives, but we get caught off guard when it's time to celebrate, forgetting that those same changes will affect our gatherings, traditions and holidays.
This week we have a very special guest, Vivienne McNeny, who'll be sharing her story with us. Vivienne is the host of The Sociable Homeschooler radio show. She is happily married with 4 children who are growing up and moving out. As a result of the changes that were happening, she found her traditions were threatened and her holidays were in jeopardy. This week she'll share the details of what happened and how she turned it around so she could still love her holiday.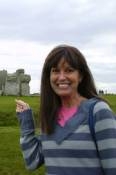 Vivienne was born in Hostert, West Germany, on a British Army Base. She was educated at a convent boarding school in England and quips that she left home at the age of eleven!
She has travelled extensively and lived in London, Beirut, Teheran, Guernsey and Marbella until she settled down in Texas with her husband. There she was a corporate executive during the day and a wife and mother in the evenings and weekends. Then she decided to homeschool her four children while they were still too young to object. Sixteen years later three of them have graduated from college, the fourth is still in attendance and all of them are contributing members of society.
Now that "spare time" has returned to the table, Vivienne has written a book, THE SOCIABLE HOMESCHOOLER, encouraging like-minded parents, from all walks of life, to consider homeschooling as a viable alternative to traditional school. She is seeking to dispel the myth that all homeschoolers are nerds by showing parents that her children succeeded academically without once being chained to a desk. She hosts an Internet radio show, The Sociable Homeschooler, where she encourages and mentors homschoolers each week, no matter where they are on their homeschooling journey. She can be heard live each Friday afternoon at 4pm Central Time. Podcasts of her past shows can be found at www.toginet.com and on iTunes.
Vivienne has outlived all the family pets and still resides in Garland, Texas with her husband and whichever child is currently in residence.
Return to the Heart Filled Holidays Show Page
Link to Article