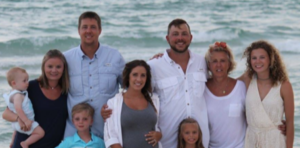 Today, her family epitomizes the idea of life-long fellowship. Yet, the hardships of her childhood helped prepare her for success now, claims Financial Advisor Marina Schroeder.
Multi-Generational Wealth
So, what's the most common mistake young families make when we think about future multi-generational wealth? "Failing to plan," she told me. Oh dear, I thought, that's still my own most common mistake.
The child of immigrants, Marina joined me recently on Fireside Talk Radio to share about starting from scratch to create sustainable multi-generational wealth. Yep, Marina encourages folks to plan two or three generations ahead.
"'I want to send my kids to college,' we can all say that, but at some point you have to put pencil to paper and develop a plan," she says.
Respect and Family Business
I couldn't wait to get her wisdom about multigenerational businesses, since she partners with her own son, T. J. Mathis, a Certified Financial Planner.
The secret to successful family businesses is respect, according to Marina. "If you treat others like a king, you ought to treat those closest to you with respect, too," she says.
Sometimes, folks "assume that our kids shouldn't work," however, Marina says her background of hard work inclined her for success. "We didn't waste anything," she laughs, remembering paper routes and lawn mowing as a youngster.
Family Conversations
With tenderness Marina advises us to have open conversations within families, so there are no surprises. For instance, often when one spouse dies the other one doesn't know how to pay the bills, much less what investments are available. Single moms can beat the odds, too, by saving and investing with a little careful planning.
Openness in families fosters a kind of respect that prepares our children to be better stewards, she says. "Have a plan. Develop a plan. Be a blessing," she adds.
Blessing Others
In keeping with the blessing theme, Marina advocates committing to "first fruits" giving. There's accountability and freedom in tithing, it turns out. By planning our budget and looking closely at income and spending, we free ourselves, according to Marina. In our freedom, we have the chance to bless others.
"A basic principle within me is that I know I am so blessed to be cared for by God," she says, explaining the value of knowing God as our companion in life. "Ask this: How can I be a blessing to other people?"
Benefits of "First Fruit" Giving
In Marina's explanation, I found a whole new level of accountability built into the concept of giving. What a fun conversation with this talented and thoughtful financial guru!
"It's easy to look back on (childhood trials) now and see how God brought me through. He has been with me throughout my life," she says. Allowing Jesus to heal the parts that hurt made Marina the successful person she is today. Plus, embracing a lifestyle of forgiveness and freedom means she now draws on her compassion to generously bless others.
May I pray for you?
Dear Father, we all want what is best for our families. We may have trials left over from our childhood that require forgiveness. Sometimes, we struggle to find the right ways to start conversations about money. We have kids we want to encourage. We may be caring for beloved elders. Our lives get hectic. We need You. Help us push pause, pray and make the plans that honor You. Give us freedom financially to focus on Your plans for our families. Bless us in the ways You choose as we trust You because it's Your pleasure to do so. Thank You for work. Thank You for allowing us to pass along Your blessings to others, too. Surround us with wise counsel. We love You. In Jesus name. Amen.
I have a prayer request…
I sent out three book proposals this month. Two are finished manuscripts with sequels on the way. Please pray all my books will find the right publishing home.
Special Shout Out
A special shout out to my friends at the Lake Palestine United Methodist Church. What a blessing to hang out with such godly and fun women! All united around such a worthy cause! Thank you for the innumerable ways you inspire me last, even letting us film my speech at your amazing annual Ladies Luncheon. I can't wait to see us all on You Tube, especially those table decorations. You are dear to my heart! (Hi to Linda, Lillian, Debbie, and Pastor Taylor!)
You can sign up for my Newsletter by clicking here.
Cathy Krafve, Texas Author, Columnist, Speaker, and Radio Host, focusing on fellowship in Christian Marriage and Family, invites your stories, ideas, and questions at CathyKrafve.com. Truth with a Texas Twang.
Return to the Fireside Talk Radio Podcast Page