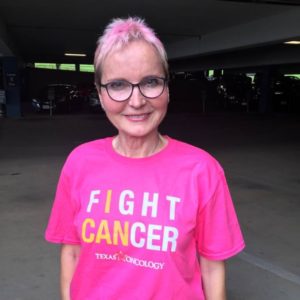 Her original plan was to treat lepers. Mom, daughters, and breast cancer were not words she ever thought to hear in the same sentence.
"When I realized that there was no more leprosy. What else? In many ways, cancer is like a modern leprosy. You have something no one wants. It disfigures you," says Sasha Vukelja, or Dr. V, as her patients lovingly call her.
Moms, Daughters, and Breast Cancer
Sasha came on Fireside Talk Radio recently to talk to me about how we can comfort friends who are diagnosed with breast cancer. (For those podcasts, click here.) Breast cancer can seem especially threatening for the whole family since daughters may also be subject to risk.
"The first things that go through the daughter's mind: Is mom going to be alive? Would I get breast cancer?"
Facing the Truth with Joy
Since breast cancer affects the whole family, not just the patient, Sasha coaches her patients to live joyfully now. Also, she always counsels women to hold onto their identity.
"They are who they are. This is an extra part of the journey that can draw so much out (of life)," she says, emphasizing how important it is to stay in this moment with joy. Tell the truth to family members, especially young children, without minimizing, she says, because, "if you don't tell them, their imagination will carry them places you may never go."
Sasha's Own Mother's Courage and Creativity
An immigrant to America, Sasha credits her own mother with setting a high standard of dedication, courage, and joy.
"She (Sasha's mother) always said, 'Art is a medicine and medicine is an art.'" Sasha developed a deep, life-long reverence for her amazing mother, a gifted artist.
"Her biggest desire was to express her belief; freedom of speech. So, she packed up and brought me to this country through many, many other countries because she wanted me to enjoy freedom of speech; to be free to express my beliefs. She was a tough woman to do this, not knowing any English and not knowing anyone here."
How to Respond When Your Friend has Breast Cancer
Sasha says that those who want to comfort a friend can respond to the news in three ways: 1) they can talk about it, 2) they can change the subject if the patient prefers a welcome distraction, or 3) sometimes, they may choose to say nothing.
"Just give a hug. Just be there. Don't minimize it. How can you minimize it? Let's face it, (cancer) is there," she says, adding that sensitivity is the key. "There are times when they want to show you their scars."
Join the Team
Sasha, part of Texas Oncology, likes to think of herself as a medical coach. She recommends letting everyone, family and friends, join the patient's team by giving them a way to help. Small children can wash their hands, keep their rooms clean, and be flexible since they will probably have more babysitters as mom goes in for tests and treatments.
Adults can find ways to help, too, especially with the changes the patient will be facing with her own body. For instance, since feet often need special care during chemo, one family member can rub Mom's feet frequently.
Celebrating Victories and Soft New Hair
"People love to laugh," which Sasha calls inner jogging. Shown in the picture as she "wins" a cake at a
recent fundraiser supporting Bethesda Health Clinic, Sasha epitomizes living joyfully in the moment and making life fun for everyone around her.
With zealous fervor, she encourages physical exercise, too. She's also devoted to prayer as a mandatory part of her patients' treatment plans.
"Prayer is inexpensive, actually it's free. You don't need special equipment. It doesn't cause nausea, vomiting, hair loss." Celebrate the little victories together, she says, like when hair falls out ("that means the treatment is working") and when it comes back.
"Sometimes you may want touch their hair," she laughs, adding, "Once you touch their hair, it's impossible to keep your hands out of it, it's so soft!"
Six months or a year from now, they'll still be on the journey, so pace your attention and remember to check back in, says the good doctor. Most of all, cherish the small victories all along the way together.
May I pray for you?
Dear Father, especially when we feel afraid, You love us and hold us close. You are a constant source of comfort, and yet, sometimes we wonder if You care at all. Today, we ask for You to open our eyes to see the good people You put in our path on this journey. Help us identify the ways You find to surround us with Your love, expressed through the kindness of others. Give health and strength to those who need it as they fight the battle of cancer. Surround their family with those who will pray and laugh and find joy together in the moment. We ask for Your blessings today because it is Your heart's desire to pour out blessings on us. In Jesus name we pray. Amen.
We love to hear from you!
When has someone said or done the perfect thing to help you in your journey? How have you faced down fears about cancer? What sacred story would you like to share?
You can sign up for our blog by clicking here.
Cathy Krafve, Columnist, Speaker, Blogger, Podcaster, and Christian Writer, invites your stories, ideas, and questions at CathyKrafve.com. Truth with a Texas Twang.
Return to the Fireside Talk Radio Podcast Page