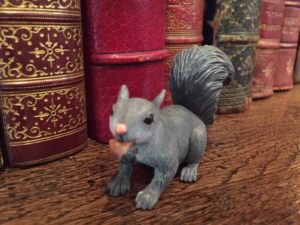 One million Fireside Talk Radio downloads this year? Nope...drum roll please...we just passed TWO MILLION!! No one is more surprised than me!
Speaking of nuts, I thought every one was crazy who suggested I should podcast. I have a million reasons why an old lady like me should never try anything so hip. (In my age bracket, we worry more about hip injuries than being hip!)
Boy, Was I Wrong!
Anna, our beloved artist daughter, agreed at the last minute to co-host a spontaneous Fireside Talk Radio show with me for Thanksgiving. My idea was get this extremely creative human to brainstorm about Fun Thanksgiving Ideas. We all want harmony at the holidays, even if our family includes a few squirrels and nuts, right?
We've been doing Fireside Talk Radio a year, so I thought I should announce our one millionth download, assuming it had happened. Right before the show, I asked Roy Bryan, our genius tech guy at Toginet, exactly where our numbers stood.
Not One, But TWO MILLION!!
Imagine my surprise when Roy tallied our numbers and whispered in my ear right before we went on that we've had more than TWO MILLION downloads!!!! I'm still in shock. (This is where Sandra Beck gets tons of credit. Please see below for more on her wonderfulness.)
High Energy and Other Family Traits
I hope you'll click on that show and listen in. It's pretty hilarious because Anna and I are both so high energy and, honestly, I was so flabbergasted about our numbers, I totally forgot what we were supposed to be doing. So, Anna shares some fun family stories. It's always a little scary when my kids start telling stories. But in fairness to the commitment we've all made to be authentic in life, I held my breath and turned her loose.
Hiding the Squirrels, Finding the Nuts
Now, if you're wondering about hiding the squirrels and finding the nuts, here's a list of activities we intend to share with our family this Thanksgiving. Especially if you're thankful for toddlers this year, as we are, you'll love the games. We'll probably set up all over the house, like stations in a kindergarten. That way the introverts, (yes, there are a few Krafves who aren't extroverts)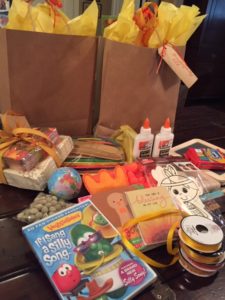 can take a break from all the excitement. Pictured right is the stash of goodies I put together to create a Thanksgiving Kit.
Hide the Squirrel
I bought a small plastic squirrel to hide around at eye-level for the toddlers in our family. Children love to play hide and seek. Many people (I won't say who exactly) like to sit still and digest their food, so this will be the perfect distraction for the little ones. It's sure to produce belly laughs for us all.
Find the Nuts
Walnuts are too big for toddling helpers to swallow. We put whole walnuts out for the squirrels on the windowsill outside. Imagine how many mouth and fingerprints there are on my windows when the squirrels are brave enough to collect their bounty.
Hug Ball
All the grown ups find a chair or couch in a circle. All the little ones stand in the middle. A small ball is tossed across. Any child who wins by grabbing the ball, gets to hug the person of his choice as his prize. (Yep, this is genius. Anna's not sure it will work, but I'm counting on getting lots of hugs. I'll keep you posted.)
Coloring Books, Chalk, and Crafts
We have a couple of darling new Thanksgiving books. Plus, there's a child's table with colors and chalk for little creators. Kids love thank you notes with envelopes. They can hand deliver them to loved ones gathered or send in the mail with a little help. Helping the little ones is a joyful activity for older cousins.
Another tall table will have a special craft that involves glue and scissors for the big kids. This year we're making Native American headbands. (And anyone who shows up dressed as a Pilgrim or Indian gets a special prize, probably a hug.)
Silly Songs and Hymns
I confess, I'm musically challenged. Consequently, I invent all kinds of creative ways to introduce music into our family. This year I got the Veggie Tales Silly Songs DVD because screen time is a treat that will enthrall the little ones, letting the grown ups relax. Anna thinks I'll be the grown up most tempted into the dance party that is sure to result. She's probably right!
Oh, the Joy of Sharing Life
Anna emphasized that it's important to her that we always include others in our family at every holiday. Sometimes, it's just our family because folks have other places to be, but we always keep the door open. Some of our most sacred family memories resulted because we invited a guest who blessed us by saying yes. We are thankful for our adopted (chosen) family members!
We are thankful for you!!
You are our reading and listening friend and we are thankful for you. We say it that way because we mean it. Two million downloads is a big number, but that never would have happened if you didn't care about the same things we care about: family, companionship, conversational adventures, authenticity, prayer. Thank you for passing along our stuff/blog/podcasts to your friends!! We are truly grateful for you and blessed to be in this together with you. What joy and fun!
Speaking of fun, Anna's has already committed to a Christmas show! We had so much fun co-hosting Fireside Talk Radio together. We'll spend more time at Christmas on the way hymns permeate our family, in spite of my knack for getting the melody wrong. And I'll turn her loose again (that sound you hear is me biting my nails as I wonder what stories she'll think of spontaneously!)
Then, speaking of things I should never do spontaneously on air (sing!!), Anna wanted you to have the words to the song we couldn't remember on the show.
Be Present at Our Table Lord
Here are the words with blessings from our family to yours!
"Be present at our table, Lord. Be here and everywhere adored. These mercies bless and grant that we may strengthened for your service be. Amen." (For those who are musically talented, go to the Lutheran Service Book Pg #755 for the music.)
We love to hear from you!
What Thanksgiving and Christmas ideas will you share with us? In what ways has someone surprised you with a "blessed yes" to your invitations? What are your favorite holiday memories?
On a Personal Note:
Finally, to my dear friend and media consultant Sandra Beck: this is a shout out for all the marvelous ways you've had faith in this project from the beginning, even when I had serious doubts! Who else would have spent a year telling me podcasting would be fun, if I would just try? Not to mention doing a word-by-word edit on my first manuscript. You are a genius and no where is it more evident than in the patience department! No one else had the experience and media savvy to know the best topics, best guests, and best way to get me to relax and get real. If I could afford TWO MILLION red roses, they'd be on your doorstep today, dear one! I'm thanking God for YOU!
You can sign up for our blog by clicking here.
Cathy Krafve, Columnist, Speaker, Blogger, Podcaster, and Christian Writer, invites your stories, ideas, and questions at CathyKrafve.com. Truth with a Texas Twang.
Return to the Fireside Talk Radio Podcast Page