Military Mom Talk Radio hosted by Sandra Beck and Robin Boyd, and produced by Rick Swanson, welcomes Trisha LaVoice of Wishes for the Mother's Heart. She is featured in this photo along side her co-author Barbara Lazeroff.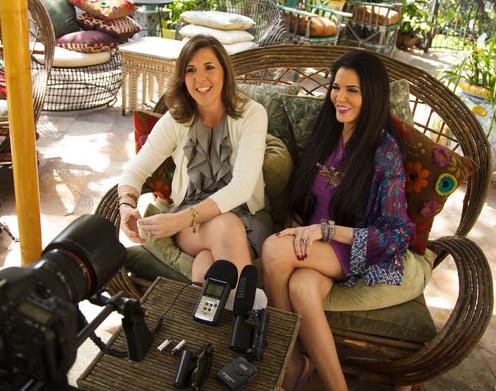 Tricia LaVoice earned a bachelor of science degree in Applied Psychology from California State University, Long Beach, and a master's degree in Educational Psychology from Fordham University. In her earlier years, she dedicated a substantial amount of time to women's crisis hotlines and is currently engaged in the area of bereavement issues. Tricia greatly enjoys writing for children and adults. Her first book, Helmets and Hoses, Toes and Noses, was released by Orchard Academy Press in July of 2008. Her second book, Pieces of My Mother, is currently being reviewed for publication. Leeza Gibbons has read many of Tricia's Wishes on her nationally syndicated radio program, Hollywood Confidential. Tricia lives in the countryside in Avon, Connecticut, with her husband, daughter, and three sons. She is a yoga enthusiast and finds inspiration for her Wishes on many of her long daily walks in nature.
Restaurateur, philanthropist, and interior designer Barbara Lazaroff, A.S.I.D., is renowned for her innovative restaurant concepts. As president of Imaginings Interior Designs, Inc., Barbara has designed such popular restaurants as the original Spago Hollywood; Spago Beverly Hills; Chinois in Santa Monica and Las Vegas; Eureka, Granita, and other noted dining establishments. She continues her work in the restaurant industry as a co-brander and partner in a multitude of "Wolfgang Puck" business entities and is a member of the Board of Directors of Wolfgang Puck Worldwide.
Barbara's unique concepts and designs have received critical acclaim and numerous awards. Her work has been featured in Designer's West, Restaurant Hospitality, Elle Décor, Fortune, Interiors, Restaurant/ Hotel Design International, Luxe, and Vogue. She has been profiled on CNN, Women on Top (a Canadian show about female entrepreneurs), Good Morning America, Home Show, Public Eye, Interior Motives, and West 57th, among others. In 1991, Barbara was inducted into the prestigious Platinum Circle of design professionals by Restaurant/ Hotel Design International. She received an honorary degree of Doctor of Business Administration in Hospitality Management from Johnson andWalesUniversity in 1998. In 2000, Barbara was inducted into the National Association of Women Business Owners Millennium Hall of Fame, which noted her leadership and business acumen.
In 1982, Barbara co-founded the annual American Wine and Food Festival, which funds the Puck-Lazaroff Charitable Foundation, whose sole mission is providing key support for the Meals on Wheels Program inL.A.In 1984, she co-founded the annual California Spirit event, which supports the American Cancer Society. Barbara has hosted an annual Spago Passover Seder since 1984, providing hunger relief in the community. Most notable among her many charitable honors are the James Beard Humanitarian Award, the Kindred Spirits Humanitarian Award, and the Aviva Family and Children's Services'Spirit of Compassion Award-an organization close to her heart. Barbara recently completed a four-year remodel of one of the Aviva residences. Barbara serves on the Board of Directors of The Friends of Sheba Medical Center, located in Israel. In addition, Barbara is engaged in a number of organizations that promote women in the hospitality industry, and the political and design arenas. She is one of the founding members of Women Chefs and Restaurateurs. Barbara is on the Board of Governors of Jewish Life Television and a frequent on-air guest, and has recently signed with Fremantle Media for an original TV series. She is also a passionate collector and patron of the arts. Barbara resides in Beverly Hills with her two sons Cameron and Byron, her longtime beau, and a menagerie of pets.
Military Mom Talk Radio on airs on Mondays at 2pm Pacific Standard Time on Toginet Radio and can be downloaded directly from Itunes and MilitaryMomTalkRadio.com.
Military Mom Talk Radio is co-hosted by Sandra Beck and Robin Boyd and produced by Rick Swanson, hosted by Toginet Radio and powered by Motherhood Incorporated. Military Mom Talk Radio supports and helps bring information to the families of the Army, Navy, Air Force, Marines and Coast Guard and is dedicated to serving our friends and family at the following Army bases: Fort Sill, Fort Bragg, Fort Carson, Fort Jackson, Fort Sam Houston, Fort Dix, Fort Campbell, Fort Belvoir, Eglin AFB, Shaw AFB, Fort Hood, Fort Eustis, Fort Leonard Wood, Redstone Arsenal and Fort Bliss. We would also like to honor our friends and family at the following over seas installations: Bahrain Administrative Support Unit, NATO Support Activity Belgium, Bad Kreuznach, Rhein-Main Air Base, Stuttgart/Robinson Barracks, Naval Forces Guam, Kadena Air Base, Torii Station, Aviano Air Base. We would like to thank the Department of Defense for supplying guest and topics.
Return to the Military Mom Talk Radio Podcast Page