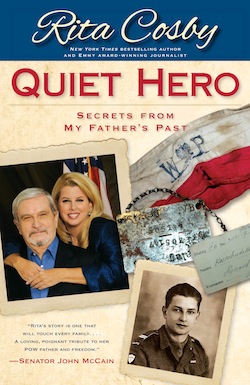 Military Mom Talk Radio hosted by Sandra Beck and Robin Boyd, and produced by Rick Swanson, welcomes Rita Cosby author of Quiet Hero: Secrets from My Fathers' Past.
QUIET HERO: Secrets from My Father's Past (Simon & Schuster, May 2010) by three-time Emmy winner and New York Times bestselling author Rita Cosby is now in bookstores. But the book is unlike anything the former Fox News Channel and MSNBC primetime show-host and current special correspondent for CBS's Inside Edition has ever written or reported.
This book is about Cosby's father, Ryszard Kossobudzki, a Polish Resistance fighter during World War II, who was badly wounded, captured by the Nazis, held in a POW camp, escaped and ultimately rescued by American military forces after retrieving handwritten directions-to-freedom wrapped in a chocolate bar and dropped to Kossobudzki and his comrades by a U.S. Army Air Forces pilot.
After the war, Kossobudzki (today 84), "met [and married] a nice Danish girl," he says, left his native Poland for America, anglicized his name to Richard Cosby (as so many immigrants did in those days), and started a family, naming his now-celebrity daughter, Rita, after a cousin Rita who also served in the resistance.
What the elder Cosby did not do is tell his story to his children the past was simply too dark to dredge up until now. Excerpt from W. Thomas Smith, Jr of Military.com.
Read an excerpt from Rita Cosby's Quiet Hero: Secrets from My Father's Past
Check out an interview with Rita and Thomas W. Smith, Jr at Military.com
Military Mom Talk Radio on airs on Mondays at 2pm Pacific Standard Time on Toginet Radio and can be downloaded directly from Itunes and MilitaryMomTalkRadio.com.
Military Mom Talk Radio is co-hosted by Sandra Beck and Robin Boyd and produced by Rick Swanson, hosted by Toginet Radio and powered by Motherhood Incorporated. Military Mom Talk Radio supports and helps bring information to the families of the Army, Navy, Air Force, Marines and Coast Guard and is dedicated to serving our friends and family at the following Army bases: Fort Sill, Fort Bragg, Fort Carson, Fort Jackson, Fort Sam Houston, Fort Dix, Fort Campbell, Fort Belvoir, Eglin AFB, Shaw AFB, Fort Hood, Fort Eustis, Fort Leonard Wood, Redstone Arsenal and Fort Bliss. We would also like to honor our friends and family at the following over seas installations: Bahrain Administrative Support Unit, NATO Support Activity Belgium, Bad Kreuznach, Rhein-Main Air Base, Stuttgart/Robinson Barracks, Naval Forces Guam, Kadena Air Base, Torii Station, Aviano Air Base. We would like to thank the Department of Defense for supplying guest and topics.
Return to the Military Mom Talk Radio Podcast Page