Military Mom Talk Radio hosted by Sandra Beck and Robin Boyd, and produced by Rick Swanson, welcomes Candace Sandy of Souls of My Sisters.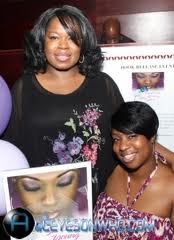 Two high school friends, and former Simon & Schuster employees felt an evolution in themselves Dawn marie Daniels and Candace Sandy and searched the shelves to find smart, helpful information that mirrored their lives as successful, upwardly mobile, women who still grappled with day-to-day issues. They turned to self-helps books and inspirational titles and felt motivated at first, but still noticed that their experience as Black women was not fully looked at or addressed by the literature on the bookshelves. "I noticed that a new approach was needed, one that would fit for today's woman whether she worked in the boardroom or the classroom," stated Dawn who launched the literary career of New York Times best-selling author Iyanla Vanzant.
Dawn and Candace felt compelled to publish these stories in Souls of My Sisters: Black Women Break Their Silence, Tell Their Stories, and Heal Their Spirits, a compilation of true life experiences of women of color. In Souls of My Sisters, women from all walks of life candidly reveal how they overcame challenges just like those faced by women every day. From Patti Labelle to Mary J. Blige to single moms and spiritual leaders, these diverse groups of women have bonded together in print, to discuss issues that have touched their lives. Ten years later, Souls of My Sisters continues to produce book tours, online resources, book clubs and a imprint Souls of My Sisters Books/Kensington Publishing Corp.
Candace Sandy is the President of Candace Sandy Communications, a multi media company and strategic cooperative targeting women. For ten years Candace Sandy has also served as the Communications Director for Congressman Gregory W. Meeks (D-NY) of the Sixth Congressional District, a member of the House Foreign Service and Financial Services Committees. In her capacity as Communications Director Sandy has managed both national and international media campaigns in countries that have included Africa, Canada, Caribbean, China, Colombia, Cuba, Great Britain, India, Israel, Malaysia, Peru and Venezuela. A frequent lecturer, Sandy is the former General Manager of New York University Radio Station WNYU 89.1 FM, 800 AM, and Channel 17. Check her out at www.soulsofmysisters.com.
Military Mom Talk Radio on airs on Mondays at 2pm Pacific Standard Time on Toginet Radio and can be downloaded directly from Itunes and MilitaryMomTalkRadio.com.
Military Mom Talk Radio is co-hosted by Sandra Beck and Robin Boyd and produced by Rick Swanson, hosted by Toginet Radio and powered by Motherhood Incorporated. Military Mom Talk Radio supports and helps bring information to the families of the Army, Navy, Air Force, Marines and Coast Guard and is dedicated to serving our friends and family at the following Army bases: Fort Sill, Fort Bragg, Fort Carson, Fort Jackson, Fort Sam Houston, Fort Dix, Fort Campbell, Fort Belvoir, Eglin AFB, Shaw AFB, Fort Hood, Fort Eustis, Fort Leonard Wood, Redstone Arsenal and Fort Bliss. We would also like to honor our friends and family at the following over seas installations: Bahrain Administrative Support Unit, NATO Support Activity Belgium, Bad Kreuznach, Rhein-Main Air Base, Stuttgart/Robinson Barracks, Naval Forces Guam, Kadena Air Base, Torii Station, Aviano Air Base. We would like to thank the Department of Defense for supplying guest and topics.
Return to the Military Mom Talk Radio Podcast Page