Military Mom Talk Radio hosted by Sandra Beck and Robin Boyd, and produced by Rick Swanson, welcomes Sheri Snively, US Navy Chaplain author of Heaven in the Midst of Hell.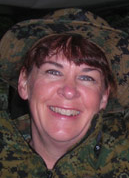 A Navy chaplain from a pacifist Quaker tradition offers a powerful and surprising account of the human side of the Iraq war. War exposes the divide between who we think we are and how we behave in extreme situations. Sheri Snively, who served as a Quaker chaplain with the U.S. Navy, has crafted a vivid, unsettling, and ultimately hopeful personal account of the effects of the Iraq war on soldiers and civilians in Heaven in the Midst of Hell.
As she served with the Marines working amid the boredom, tension, and seemingly meaningless carnage at a trauma hospital between Ramadi and Fallujah, Commander Snively experienced firsthand the grim reality of combat. As she recounts the way she and the soldiers around her experience war, she negotiates a compassionate path to healing-marked not by formulaic answers, but by an open and questioning spirit.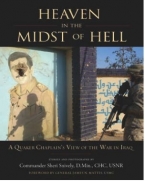 Sheri Snively is a U.S. Navy chaplain with a BS in Economics from the University of California, Riverside, a BS in Mechanical Engineering from Cal State, Los Angeles, a Master of Divinity from Bethel Seminary, and a Doctor of Ministry from Wisdom University. Sheri is certified as a Diplomate in the American Academy of Experts in Traumatic Stress. She is currently a student at the Naval War College in the Masters Program in National Security and Strategic Studies. She deployed to Iraq with 1MLG from Camp Pendleton, California. Commander Snively's father was a WWII Navy pilot and career officer, and her mother is a Quaker who can trace her Quaker roots back to the seventeenth century. Sheri currently lives with her family near San Diego.
Military Mom Talk Radio on airs on Mondays at 2pm Pacific Standard Time on Toginet Radio and can be downloaded directly from Itunes and MilitaryMomTalkRadio.com.
Military Mom Talk Radio is co-hosted by Sandra Beck and Robin Boyd and produced by Rick Swanson, hosted by Toginet Radio and powered by Motherhood Incorporated. Military Mom Talk Radio supports and helps bring information to the families of the Army, Navy, Air Force, Marines and Coast Guard and is dedicated to serving our friends and family at the following Army bases: Fort Sill, Fort Bragg, Fort Carson, Fort Jackson, Fort Sam Houston, Fort Dix, Fort Campbell, Fort Belvoir, Eglin AFB, Shaw AFB, Fort Hood, Fort Eustis, Fort Leonard Wood, Redstone Arsenal and Fort Bliss. We would also like to honor our friends and family at the following over seas installations: Bahrain Administrative Support Unit, NATO Support Activity Belgium, Bad Kreuznach, Rhein-Main Air Base, Stuttgart/Robinson Barracks, Naval Forces Guam, Kadena Air Base, Torii Station, Aviano Air Base. We would like to thank the Department of Defense for supplying guest and topics.
Return to the Military Mom Talk Radio Podcast Page