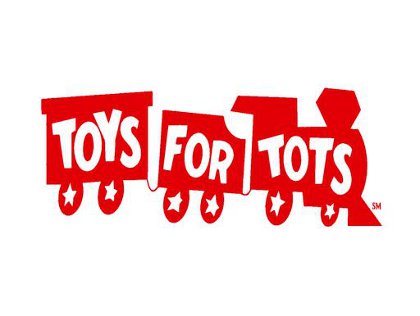 The mission of the U. S. Marine Corps Reserve Toys for Tots Program is to collect new, unwrapped toys during October, November and December each year, and distribute those toys as Christmas gifts to needy children in the community in which the campaign is conducted.
Toys for Tots began in 1947, when Major Bill Hendricks, USCR and a group of Marine Reservists in Los Angeles collected and distributed 5,000 toys to needy children. The idea came form Bill's wife, Diane. In the fall of 1947, Diane crafted a homemade doll and asked Bill to deliver the doll to an organization, which would give it to a needy child at Christmas. When Bill determined that no agency existed, Diane told Bill that he should start one. He did. The 1947 pilot project was so successful that the Marine Corps adopted Toys for Tots in 1948 and expanded it into a nationwide campaign. That year, Marine Corps Reserve units across the nation conducted Toys for Tots campaigns in each community in which a Marine Reserve Center was located. Marines have conducted successful nationwide campaigns at Christmas each year since 1948.
The initial objective that remains the hallmark of the program today is to "bring the joy of Christmas to America's needy children". The objectives of Toys for Tots are to help less fortunate children throughout the United States experience the joy of Christmas; to play an active role in the development of one of our nation's most valuable resources - our children; to unite all members of local communities in a common cause for three months each year during the annual toy collection and distribution campaign; and to contribute to better communities in the future.
Motherhood Incorporated has been a proud supporter of Toys For Tots for over 25 years, and this year's event was nothing short of incredible. Thanks to all who supported our event, and to all who support Toys For Tots in their local communities.
Military Mom Talk Radio on airs on Mondays at 2pm Pacific Standard Time on Toginet Radio and can be downloaded directly from Itunes and MilitaryMomTalkRadio.com.
Military Mom Talk Radio is co-hosted by Sandra Beck and Robin Boyd and produced by Rick Swanson, hosted by Toginet Radio and powered by Motherhood Incorporated. Military Mom Talk Radio supports and helps bring information to the families of the Army, Navy, Air Force, Marines and Coast Guard and is dedicated to serving our friends and family at the following Army bases: Fort Sill, Fort Bragg, Fort Carson, Fort Jackson, Fort Sam Houston, Fort Dix, Fort Campbell, Fort Belvoir, Eglin AFB, Shaw AFB, Fort Hood, Fort Eustis, Fort Leonard Wood, Redstone Arsenal and Fort Bliss. We would also like to honor our friends and family at the following over seas installations: Bahrain Administrative Support Unit, NATO Support Activity Belgium, Bad Kreuznach, Rhein-Main Air Base, Stuttgart/Robinson Barracks, Naval Forces Guam, Kadena Air Base, Torii Station, Aviano Air Base. We would like to thank the Department of Defense for supplying guest and topics.
Return to the Military Mom Talk Radio Podcast Page