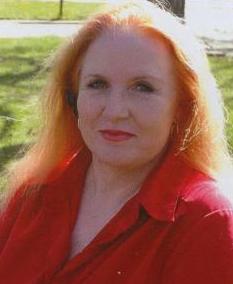 Joyce Faulkner, president of the Military Writers Society of America, lives in Pittsburgh, PA. She published her first article in high school back in 1965. Her writing credentials include many magazine, newspaper & web articles. She also wrote columns -- "The History of Aerial Applications" for AG Pilot International and one on writing topics for webzine "Scribe & Quill." She is a ghostwriter, an editor and a web, newspaper & book designer.
She has been a member of MWSA since 2006 and has served as Secretary and MWSA Webmaster since January of 2008. Her skills include Management, Project Management, Web Site Design, Writing and Layout. She volunteered for the Cleveland Rape Crisis Center for several years and has led various corporate, community and volunteer committees & organizations. Her goal is to help veterans record their piece of history -- for themselves, their families, their communities -- and our country.
"It all started when I wrote 'In the Shadow of Suribachi'," she says. "It's basically the story of my father's experiences as a young Marine at the Battle of Iwo Jima. That book has my heart. It was also the beginning of my working to get veterans' stories written and published. Working with MWSA is an extension of that dream...to make sure that all of our history is recorded and recognized."
Visit http://www.mwsadispatches.com for more information.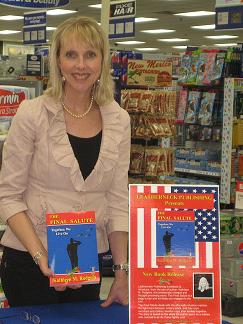 Growing up in a family of six kids in Clovis, New Mexico, Kathleen Rodgers spent countless hours in a rocking chair, daydreaming about what it would be like to be someone else. Little did she know then that she was simply creating stories in my head.
Through writing, Kathleen has been able to explore many subjects. Her goal is always to get to the truth through the people and places she writes about, real or imagined. Along the way, she has encountered many roadblocks and detours, but has pressed ahead and kept her eyes on her goals.
In 2008, Leatherneck Publishing released Kathleen's debut novel "The Final Salute." The following year, Army Wife Network selected it as their July 2009 book club pick and Military Writers Society of America awarded it the Silver Medal. In July 2011, the Kindle Edition was released by Navigator Books. In this novel, a Vietnam vet and father of three is haunted by the memories of dead friends killed in air mishaps, and must deal with a devious commander, an animal-crazed neighbor whose husband hates pilots, a beautiful, but suspicious wife and a rebellious teenage daughter. The last thing he needs is another war.
Additional work by Kathleen has appeared in Family Circle Magazine, Air Force, Army & Navy Times, Family: The Magazine for Military Families, Fort Worth Star-Telegram, Albuquerque Journal, Clovis News Journal, and in three anthologies: "Because I Fly," by McGraw-Hill, "Lessons From Our Children," by Health Communications, Inc. and "Hearts of Steel," by Military Writers Society of America.
For more information visit www.kathleenmrodgers.com.
Military Mom Talk Radio on airs on Mondays at 2pm Pacific Standard Time on Toginet Radio and can be downloaded directly from Itunes and MilitaryMomTalkRadio.com.
Military Mom Talk Radio is co-hosted by Sandra Beck and Robin Boyd and produced by Rick Swanson, hosted by Toginet Radio and powered by Motherhood Incorporated. Military Mom Talk Radio supports and helps bring information to the families of the Army, Navy, Air Force, Marines and Coast Guard and is dedicated to serving our friends and family at the following Army bases: Fort Sill, Fort Bragg, Fort Carson, Fort Jackson, Fort Sam Houston, Fort Dix, Fort Campbell, Fort Belvoir, Eglin AFB, Shaw AFB, Fort Hood, Fort Eustis, Fort Leonard Wood, Redstone Arsenal and Fort Bliss. We would also like to honor our friends and family at the following over seas installations: Bahrain Administrative Support Unit, NATO Support Activity Belgium, Bad Kreuznach, Rhein-Main Air Base, Stuttgart/Robinson Barracks, Naval Forces Guam, Kadena Air Base, Torii Station, Aviano Air Base. We would like to thank the Department of Defense for supplying guest and topics and the Department of Veteran Affairs along with the Department of Labor for supporting our shows.
Return to the Military Mom Talk Radio Podcast Page