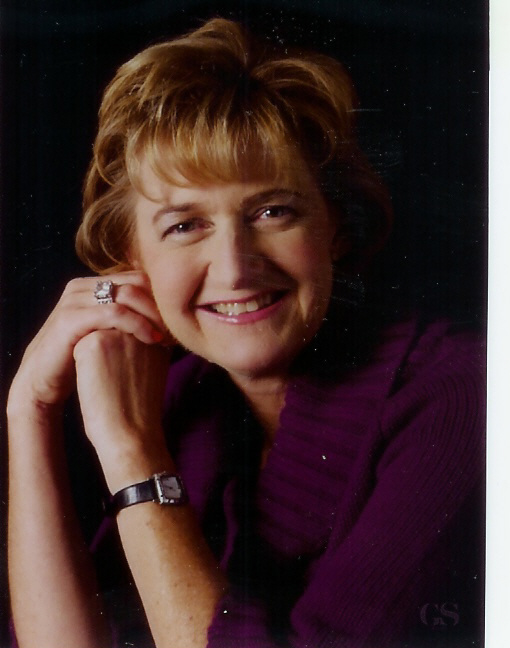 Since 2006, Horses4Heroes, a Las Vegas-based non-profit, has introduced more than 5,000 service men and women to horses and horseback riding, simply because of their sacrifice and service to our country. Horses4Heroes serves all active duty military personnel, veterans, First Responders and their families. Their growing national network of 190 kid-friendly, family friendly equestrian facilities in 43 states plus Canada provide affordable (sometimes free) recreational, instructional and health & wellness programs for all ages, all riding levels and all disciplines. The host facilities provide equestrian programs that emphasize fun and safe activities with horses, mounted and un-mounted for all ages. Participants learn valuable leadership and teamwork skills, make new friends, and develop a lifelong love of horses! Many of the facilities are equine rescues and others offer free programs to all veterans and their families!

Sydney Knott, Founder/President/Executive Director of Horses4Heroes, Inc. is a Santa Barbara-native. She grew up on a steady diet of John Wayne movies, "Gunsmoke," "Bonanza," and her favorite books were by Marguerite Henry. Although horses weren't part of her life, they were her passion since she was a little girl. A public relations professional for the past 30 years, Syd won her industry's highest honor, The Silver Anvil, for a public relations campaign promoting the Resolution Trust Corporation. In 1999, she fulfilled a lifelong dream to finally own a horse. Her first horse, like her favorite book, was named Misty! It was, however, her father's diagnosis of terminal lung cancer, that became the catalyst for the creation of Horses4Heroes, a national non-profit dedicated to providing affordable horseback riding programs to the heroes and their families in our communities.

For more information, visit www.horses4heroes.org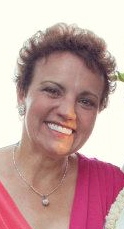 Veterans Moving Forward is committed to transforming the lives of physically and mentally challenged veterans, helping them assimilate into society and lead productive and fulfilling lives. Veterans Moving Forward has a unique plan to serve this deserving community - to provide "service" dogs to those who have served our country and who are now in need.

Over 750,000 veterans either currently need or could benefit dramatically from having an assistance/service dog to mitigate his/her disability, and this number will grow. Additionally, strong evidence points to a significant reduction in therapy time, effort and money when dogs are introduced into therapy during recovery and rehabilitation.
Training an assistance/service dog starting today means the dog will be ready for assignment in about two years. Veterans Moving Forward trains dogs to the highest possible level (to serve as either a service, facility, therapy or comfort dog) and then assigns it to a veteran based on the dog's aptitude and training and on and the veteran's degree of need at the time of placement or engagement.

Veterans who have partnered successfully with a service dog and recover to greater functionality will be offered an opportunity to work for VMF to serve other veterans in need.

Karen D. Jeffries, president and co-founder of the non-profit Veterans Moving Forward, Inc., is also a management consultant with more than 25 years experience working directly for senior leaders of the federal government and chief executives of commercial corporations in the Washington, DC area. Ms. Jeffries is a retired naval officer and owner of Jeffries Communications Group LLC, a Service-Disabled, Veteran-Owned, Small Business (SDVOSB) specializing in marketing, business development and communications

For information on how you can help, visit www.vetsfwd.org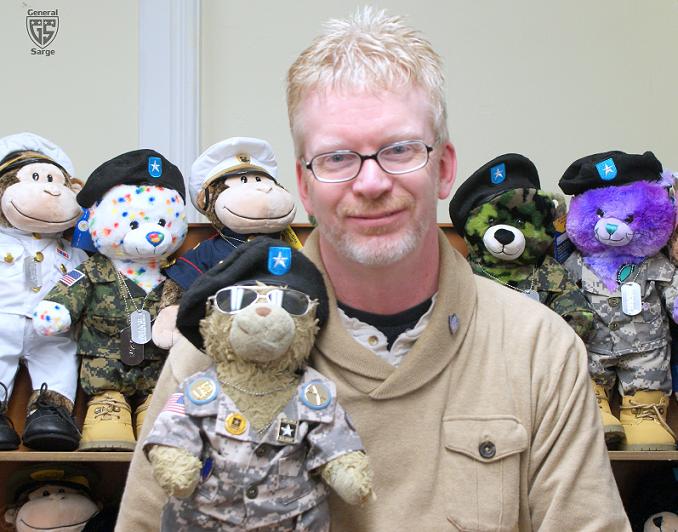 General Sarge "Comforting Military Families One Furry Friend At A Time"

Dr. Rus Jeffrey and his wife Sandra's son, SPC Benjamin Jeffrey, is currently serving in the U.S. Army stationed at Fort Lewis, WA as part of 11B Infantry, 2nd Infantry Division, 2nd Brigade, 2nd Battalion. He is currently deployed to Afghanistan.

At the age of 10 they gave Benjamin a Christmas Gift Certificate for Build-A-Bear Workshop. For as long as they can remember Ben has always wanted to join the Army. So, it really came as no surprise that he named his bear Sarge and dressed him in an Army uniform. On his 18th birthday in August 2010 Ben joined the Army as an active duty soldier.

Before heading for Basic Training at Fort Benning, GA they gave Sarge a new uniform. Ben instantly recognized that Sarge was promoted to General Sarge. Dr. Rus started taking daily pictures of things General Sarge was doing each day and it has now grown into an organization that "deploys" Build-A-Bear Workshop teddy bears to military children.

General Sarge's mission has grown beyond the Jeffrey's living room to a website serving hundreds of military families. Weekly and monthly salutes go out to honor military children, the Gift-A-Bear Campaign including the Fallen Hero Bear and Deployment Bear Mascot programs. Operation B.E.A.R. recruits individuals, businesses and organizations to Bring Encouragement And Recognition as sponsors. Additionally, General Sarge's Families First Campaign partners with the Fresh Wind Ministries to help offset the traveling expense to a family member so they are able to attend the graduation of their troop from Basic Training.

For information, visit www.generalsarge.com
Military Mom Talk Radio is co-hosted by Sandra Beck and Robin Boyd, hosted by Toginet Radio and powered by Motherhood Incorporated. Military Mom Talk Radio supports and helps bring information to the families, moms and wives of the Army, Navy, Air Force, Marines and Coast Guard and is dedicated to serving our friends and family in the Armed Service. We are proud supporters and members of the Military Writers Society of America as well as proud supporters of Operation Gratitude, Tragedy Assistance Program for Survivors (TAPS), Shining Service Worldwide, Fisher House and the Girl Scouts of the USA and Boy Scouts of America.
Return to the Military Mom Talk Radio Podcast Page