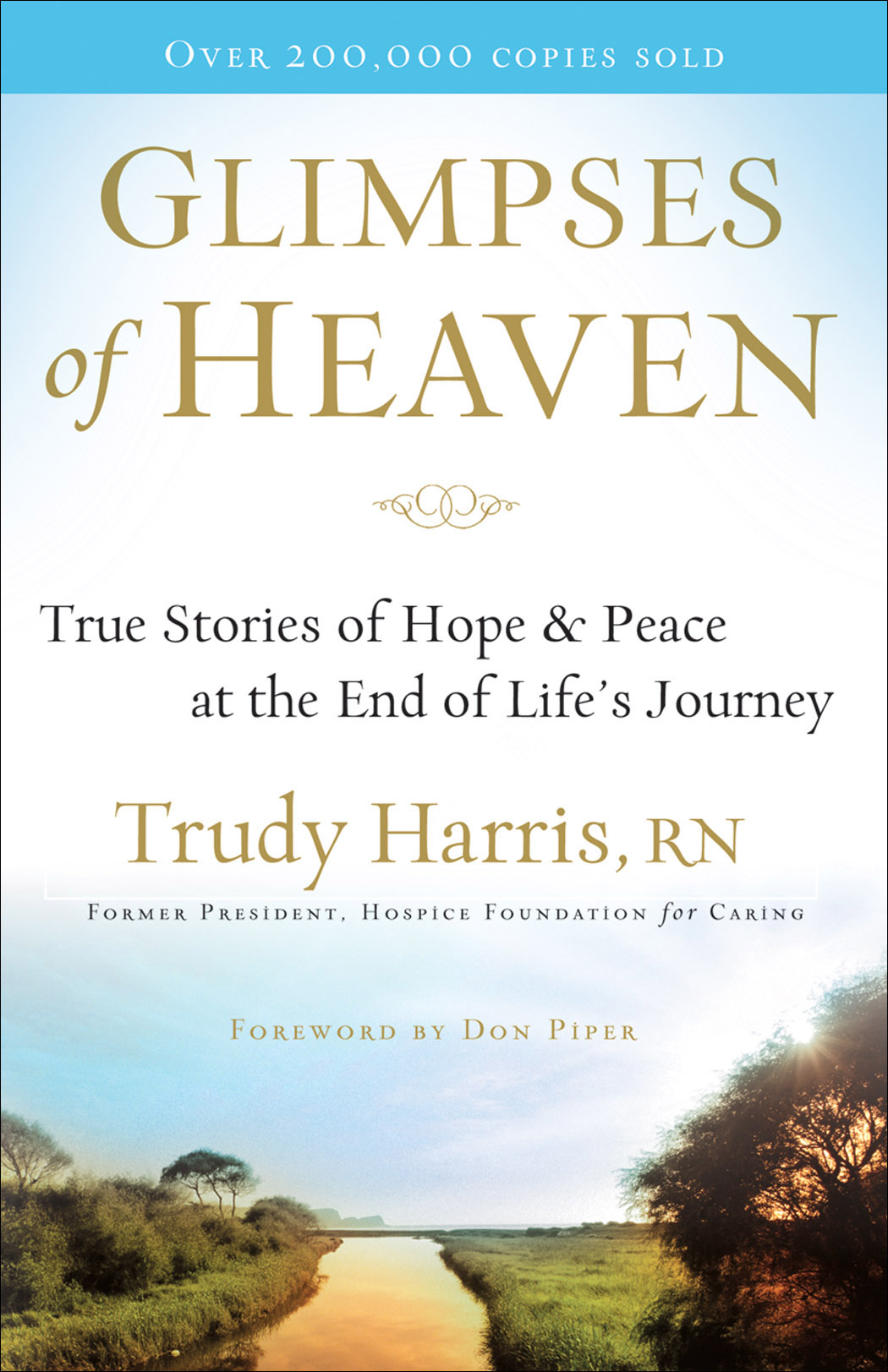 There is more to death than simply ceasing to live. In Glimpses of Heaven, retired hospice nurse Trudy Harris offered an intimate look at the final days and moments of terminally ill and dying people. Now she shares more of her stories and also stories from other medical and hospice professionals, allowing the veil to be drawn back on God's handiwork, while we are both living and dying. If you have lost a loved one, are facing a terminal illness, or are simply curious about what happens when we pass from life to death, More Glimpses of Heaven offers you an even deeper insight into God's plan for our lives every day.

Trudy Harris, RN, was a Hospice nurse for more than 22 years and former president of the Hospice Foundation for Caring. During those years she was responsible for all public relations, marketing, fund raising and development, raising more than 45 million dollars for her local Hospice program.

Trudy's first book, " Glimpses of Heaven " has sold over 300,000 copies and is currently published in 9 languages. She remains active in connecting the needs of terminally ill and dying patients in her community with the Hospice program she knows can best meet their needs. Her latest book, " More Glimpses of Heaven " was published in November 2010 and is already enjoying a wide readership.

She and her husband live in Jacksonville, Florida and enjoy the love and friendship of their 4 sons and 7 grandchildren.
Find Trudy's books at www.glimpsesofheavenbook.com

Caitlin McCleary Horn and Jason Strickland join us from TroopSwap.
Founded by two Army Rangers, the company developed technology to validate military affiliation online in order to empower brands to honor military service through online discounts without fear of fraud. The site has attracted over 80,000 users in five markets since commencing operations in May 2011.

Caitlin McCleary Horn is a proud military spouse to an active duty US Naval Aviator as well as the Director of Sales for TroopSwap.com. As the first female (and 4th overall) employee of the company, Caitlin has seen the startup through each stage of the company's life cycle and, in
turn, has had the incredible opportunity to work hand in hand with each of the 12 military spouses and veterans on the ground in each of the local markets as they work to build relationships with local and national military-friendly businesses.

Caitlin graduated from the College of Charleston in 2008 with a Bachelors of Science degree in Accounting and Legal Studies. Prior to coming on board at TroopSwap, Caitlin resided in the DC area and garnered professional experience working for top corporate law firm Cooley LLP as a Business Development Associate as well as with Deloitte & Touche, LLP's Audit and Enterprise Risk Services sector.

Caitlin currently resides in Virginia Beach, VA with her husband, LT Ben "Ex-Lax" Horn, and their two year old yellow labrador, Hampton :)

Jason Strickland is a Partner Development Executive for TroopSwap and a retired U.S. Army Officer. He's been married for nearly 20 years and has twins that are seven years old.
Based in Colorado Springs, Jason recently launched the first new market for TroopSwap since 2011. He's grown the membership base in Colorado from just over 300 in May 2012, to over 2,000 in March 2013. He's listed over 50 businesses offering either a TroopSwap discount or daily deal.

Jason graduated with a BA in Government (International Relations) from California State University, Sacramento, in 1991, where he was also a Distinguished Military Graduate. He later earned a Master of Public Administration from the University of South Florida in 2003.

Jason served as a Military Intelligence Officer during his career in the U.S. Army and had several deployments to the Middle East for Operation Iraqi Freedom. He earned the Legion of Merit and Bronze Star during his service. He commanded a unit of over 125 Soldiers during a humanitarian assistance mission in Central America in the late 90s. He has also written five articles for various Department of Defense journals / periodicals highlighting geospatial intelligence, critical infrastructure protection, and force protection issues.

Jason also serves with his wife as a Director of Awana within his church and he helps facilitate mentorship programs at the Center of Leadership and Character Development at the United States Air Force Academy.
For more information, visit www.troopswap.com.
Military Mom Talk Radio is co-hosted by Sandra Beck and Robin Boyd, hosted by Toginet Radio and powered by Motherhood Incorporated. Military Mom Talk Radio supports and helps bring information to the families, moms and wives of the Army, Navy, Air Force, Marines and Coast Guard and is dedicated to serving our friends and family in the Armed Service. We are proud supporters and members of the Military Writers Society of America as well as proud supporters of Operation Gratitude, Tragedy Assistance Program for Survivors (TAPS), Shining Service Worldwide, Fisher House and the Girl Scouts of the USA and Boy Scouts of America.
Return to the Military Mom Talk Radio Podcast Page