Military Mom Talk Radio hosted by Sandra Beck and Robin Boyd Salute Veterans on Veterans' Day, including stories from veterans, music paying tribute to our military, and information on the Veterans History Project.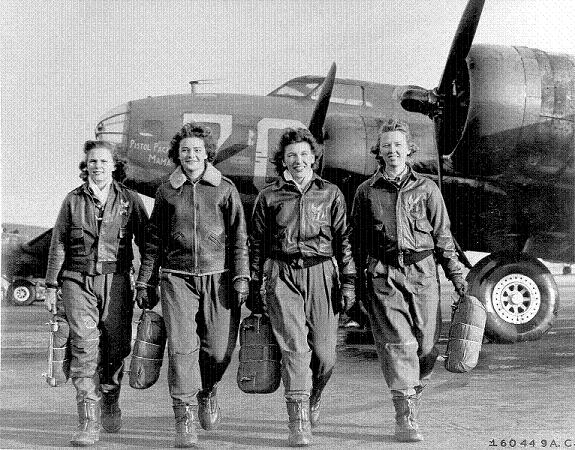 The Women Airforce Service Pilots (WASP) was a paramilitary aviation organization in WW2. In 1942, the Women's Flying Training Detachment (WFTD) and the Women's Auxiliary Ferrying Squadron (WAFS) were the pioneering organizations of civilian female pilots, employed to fly military aircraft under the direction of the United States Army Air Forces during World War II. The WFTD and WAFS were merged on August 5, 1943, to create the WASP organization. The female pilots of the WASP freed male pilots for combat service and duties. They flew over 60 million miles in every type of military aircraft.
Some 25,000 women applied to join the WASP, but only 1,830 were accepted and took the oath. Only 1,074 of them passed the training and joined. After training, the WASPs were stationed at 120 air bases across the U.S., assuming numerous flight-related missions, and relieving male pilots for combat duty. They flew sixty million miles of operational flights from aircraft factories to ports of embarkation and military training bases. They also towed targets for live anti-aircraft artillery practice, simulated strafing missions, and transported cargo. Women in these roles flew almost every type of aircraft flown by the USAAF during World War II. In addition, a few exceptionally qualified women were allowed to test rocket-propelled planes, to pilot jet-propelled planes, and to work with radar-controlled targets. Between September 1942 and December 1944, the WASP delivered 12,650 aircraft of 78 different types.
Thirty-eight WASP fliers lost their lives while serving during the war -- all in accidents-eleven in training and twenty-seven on active duty. Because they were not considered military under the existing guidelines, a fallen WASP was sent home at family expense without traditional military honors or note of heroism. The army would not even allow the U.S. flag to be placed on the coffin of the fallen WASP.
Although having served an invaluable contribution to the war effort, the program was abruptly ended in December of 1944. The women were not given military benefits and were mostly expected to return to the jobs that society expected of women in that decade.
It was not until 1977 that the WASPs were granted veteran status, and their full recognition would not come until 2009 when they were awarded the Congressional Gold Medal.
Learn more about these brave heroes at http://waspmuseum.org.
Memories from war are often buried deep a veteran's mind, long dormant, a piece of personal history at risk. Often their own families have no idea what risks the veteran faced or the terrors they experienced in battle. The time comes when those stories must be told, when that history must be preserved. They are the real fabric from which America is woven.
Out of the Mist, Memories of War is a compilation of short stories about veterans from various conflicts and more. It includes a brief tribute to those from the author's family who served and are serving, as well as a sharing of his mind during his VA qualification process. The book concludes with one section dedicated to vignettes about vets he met at a variety of functions.
The author, Michael D. "Moon" Mullins, prefers to tell the stories of enlisted men and officers, who were part of the defense of America and its values; the average person who may not have earned individual awards. These men have been excluded from traditional textbooks, but their stories must be preserved as well. Out of the Mist includes vets from WWII, Korea, the Cold War, Vietnam, and the current conflicts in the Middle East. It includes stories about those who remained behind and supported them. It is history told from the mouths of those who made it.
Read more about Michael on the Military Writers Society of America site, http://www.mwsadispatches.com/node/434 or on Amazon.
Military Mom Talk Radio is co-hosted by Sandra Beck and Robin Boyd, hosted by Toginet Radio and powered by Motherhood Incorporated. Military Mom Talk Radio supports and helps bring information to the families, moms and wives of the Army, Navy, Air Force, Marines and Coast Guard and is dedicated to serving our friends and family in the Armed Service. We are proud supporters and members of the Military Writers Society of America as well as proud supporters of Operation Gratitude, Tragedy Assistance Program for Survivors (TAPS), Shining Service Worldwide, Fisher House and the Girl Scouts of the USA and Boy Scouts of America.
Return to the Military Mom Talk Radio Podcast Page