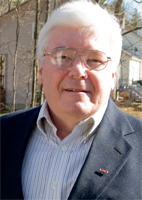 Stephen Boyd served on active duty in the US Army from 1967 to 1970. He served in Korea in 1968 and Viet Nam from 1969 to 1970. He has numerous awards and decorations for his military service.
Steve received his Associates degree in Biology , recently returned to receive his Bachelor of Science degree in Organizational Management in 2007 and currently is finalizing his PMP certification. You're never too old for education, he says.
His new experience dealing with the VA came about because of a layoff in 2010. Being without medical coverage, Steve's wife prompted him into investigating the benefits the VA could offer. What a pleasant surprise he had in discovering a wealth of support at the Manchester, NH VA facility.
Today Steve will share portions of an interview he did with veteran Roger Paris, USMC Gunnery SGT. who served from 1938 - 1945. A native of New Hampshire, he is now a resident at the state's veterans' home. The full interview will be available on our Veterans' Corner page of our website.
Military Mom Talk Radio is co-hosted by Sandra Beck and Robin Boyd, hosted byToginet Radio and powered by Motherhood Incorporated. Military Mom Talk Radiosupports and helps bring information to the families, moms and wives of the Army, Navy, Air Force, Marines and Coast Guard and is dedicated to serving our friends and family in the Armed Service. We are proud supporters and members of the Military Writers Society of America as well as proud supporters of Operation Gratitude,Tragedy Assistance Program for Survivors (TAPS),Shining Service Worldwide, Fisher House and the Girl Scouts of the USA and Boy Scouts of America.
Return to the Military Mom Talk Radio Podcast Page