Jack Stern, M.D., Ph.D., is a board-certified neurosurgeon specializing in spinal surgery, and cofounder of Spine Options, one of America's first facilities committed to nonsurgical care of back and neck pain. Virtually every American will experience back pain at some point in life. But it needn't turn into a chronic, debilitating condition with no relief in sight. And it may not require surgery or another form of invasive therapy. Fortunately, with today's technology and the latest science on traditional and integrative medicines, back pain is treatable, and celebrated neurosurgeon Jack Stern, M.D., Ph.D., shows you how to end the suffering for good.
In his book ENDING BACK PAIN, Dr. Stern presents his scientifically-grounded solutions for understanding your back's pain and then finding the best approach to remedy it. He explains the six major anatomical sites that often generate pain, while also identifying other potential sources people (and doctors) can easily overlook, such as commonly used drugs, undiagnosed illnesses or diseases, and even depression.
Learn more about Dr. Stern at www.drjackstern.com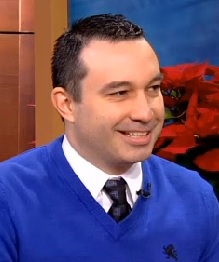 Barron Whited, MS.Ed., earned his Masters of Science degree from Duquesne University in Education in School Counseling and is Certified as a K-12 as a School Counselor. He also holds a Bachelor of Science Degree from the University of Pittsburgh at Johnstown in Biology and Communication. Barron has 14 years of experience in elementary, secondary and higher education which includes: The Art Institute of Pittsburgh, University of Pittsburgh at Johnstown, ICM School of Business & Medical Careers, Franklin Regional School District, Penn Hills School District, and Agora Charter Cyber School. "Barron has been featured on "Pittsburgh Today Live" on KDKA-TV (CBS), WTAJ-TV (CBS) and has articles published by the Pittsburgh Post-Gazette, Pittsburgh Tribune Review, New York Daily News, USA Today, CNN, TODAY's Show (NBC) and Education World.
Today Mr. Whited will focus on bullying, cyber bullying, and helping kids think before they type.
Learn more about Barron Whited at www.barronwhited.com
Military Mom Talk Radio is co-hosted by Sandra Beck and Robin Boyd, hosted by Toginet Radio and powered by Motherhood Incorporated. Military Mom Talk Radio supports and helps bring information to the families, moms and wives of the Army, Navy, Air Force, Marines and Coast Guard and is dedicated to serving our friends and family in the Armed Service. We are proud supporters and members of the Military Writers Society of America as well as proud supporters of Operation Gratitude, Tragedy Assistance Program for Survivors (TAPS),Shining Service Worldwide, Fisher House and the Girl Scouts of the USA and Boy Scouts of America.
Return to the Military Mom Talk Radio Podcast Page