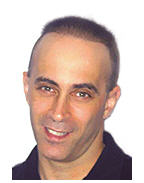 Whether your goal is to become a leader in your field, achieve financial mastery, increase self confidence, empower your relationships or enhance your physical health, today's show will help to understand how to begin breaking through your limitations and transform your life into the way you want it to be.
Join your host, life and business coach Marla Tabaka, as she and her guest, Chaney Weiner discuss strategies to help you to realize your defining moment, discover your inner-brilliance and learn how to achieve a defining breakthrough in your life.
Chaney is a sought after authority on human potential and personal development. He is also the founder of the Chaney Institute of Human Potential, an organization dedicated to empowering people worldwide in all seven areas of life (Financial, physical, family, mental, spiritual, vocational, and social) by helping them discover their hidden brilliance and uniqueness based on what is most important to them. He is also a facilitator of the Demartini Method which was developed by Dr. John Demartini.
An acknowledged transformational leader and a leading expert on success and raising human potential, Chaney has inspired millions of people around the world, sharing his breakthrough methods for personal and professional success in the seven different areas of life.
Chaney's work has been featured on Montel Across America with Montel Williams, Hollywood Confidential with Leeza Gibbons, Hay House Radio and on hundreds of radio shows throughout the world.
Return to the Million Dollar Mindset Podcast Page