Sanjay Burman is a Master Hypnotherapist, film producer and director, and publisher of motivational books. He has consulted Governor Welfare Offices, the Chamber of Commerce, & Shirley Maclaine, among others. He has also just designed a course for Canada's Metro Police on how to read a person and use hypnosis to calm people down; integrated into their best practices in handling accidents victims, witnesses and other individuals in contact with police officials.
Sanjay's career started at the age of 16 when he produced a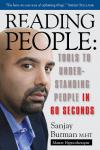 national show for CBC Television. By 23 he was VP of Canada's largest talent agency and at 24 had produced the Cannes award-winning Spider starring Ralph Fiennes and Lynn Redgrave. But Sanjay became disheartened with the industry and left to pursue hypnotherapy.
We will learn how this led to Sanjay's publishing company and how, through his persistence, he signed the authors of The Secret two weeks before they went on Oprah. The small publishing company grew overnight.
Today, Sanjay has come back to the entertainment industry by producing movies that are inspirational and capture the human spirit. He also continues to publish books, releasing his own "Do Everything They Tell You Not To Do If You Want To Succeed" and his latest, "Reading People".

Return to the Million Dollar Mindset Podcast Page