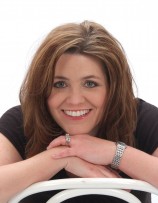 Listen to my encore show this week while I work on finishing my two manuscripts!
Nicole O'Dell has a desire to bridge the gap between parents and teens and as a former teen herself and mother of six children she has first hand experience.
I am thrilled to welcome her today as my guest when we will be talking about topics that will get you all sticky under the collar and that's before you even broach the subject with your teenagers!
Her new series of books, Hot Buttons, are aimed at helping parents handle tough issues with their tweens and teens before they pop up in real life.
Nicole is a youth culture expert, she writes and speaks to pre-teens, teens, and parents about how to prepare for life's tough choices. She is the author of ten YA novels, including the popular Scenarios for Girls interactive fiction series and the Diamond Estates series.
Her non-fiction for teens includes Girl Talk, which she wrote with her two daughters based on their popular blog column by the same name, and hundreds of contributions to several devotional books.
Nicole is the founder of Choose Now Ministries and fellow radio show host here on Toginet Radio.
Join me on Friday during elevensies and take some steps with Nicole towards guiding and encouraging your teens' commitment to good decisions.
Return to the The Sociable Homeschooler Podcast Page