Earlier this week, my friends at The Living Room aired a show called, "Confessions of Motherhood." I was absent for this recording--and felt somewhat relieved I didn't have to share my most embarrassing moment or deepest flaw on internet radio. I was perfectly happy to be traveling and painting instead.

Then a beloved friend texted me the following: "I'm listening to the most recent TLR podcast, and I am noticing that you didn't confess anything. I haven't finished it yet. But now I'm thinking that maybe you really are a perfect mother because I can't think of anything you should confess either."
Hahahaha!

Please allow me to put any such delusions to rest once and for all.

Here's my official confession (although I'm somewhat horrified to put this in writing):

A couple of months ago I hosted my book group at our house. We read a wonderful YA novel, Signed, Skye Harper by Carol Lynch Williams and—miracle of miracles—the author was joining us in person! We could hardly believe our good fortune.

I spent a good chunk of the day cleaning the house, preparing raw food (one of our members has cancer and is on a special diet), and getting ready for the event.
Our family breeds Shelties (shetland sheepdogs) and the last puppy had just been sold, so there was some extra cleaning and mopping to do, as I put away the puppy crate, washed mountains of extra towels, and turned the laundry room back into a place where we actually wash and iron our clothes.

When it came down to the final vacuum, I did every inch of the main floor—even the stairs and behind the couch—but when I suddenly glanced at the clock, time was running short. I looked at the dining room and thought, no one has eaten in here this week, and quickly ran the vacuum alongside—but not under—the big harvest table, then rewound the cord and put the vacuum away.

Guests arrived, people admired the display of food and the lovely antique dishes (my grandmother's) we used for the occasion. The author was seated at the head of the dining room table, and was regaling us with stories of not cleaning her house, joking about how the neighbor kids thought they might catch a disease. I could hardly relate—I'd been cleaning for what seemed like the entire day.

Then about midway through the evening one young mother put her toddler down on the floor. He was exploring, crawling under the dining room table, then stopped, and sat still with some sort of treasure in his hand. His mother cooed, "Oh, what did you find?" just as he was about to put it in his mouth.

To my complete mortification, in his chubby little fist was a piece of puppy poo.

That's right. The one spot I left unchecked and unvacuumed was the spot where, unbeknownst to me, the little puppy we sold that morning had chosen to relieve himself.

I slid back my chair, made a mad dash for the kitchen for tissue and towels, and apologized over and over again to this sweet mom.

But the damage was done. I doubt she'll ever even set foot in my house again. At least not with her baby in tow. For all I know the entire book group has already made a secret pact to exclude me from future gatherings.

My friend who was texting me about being perfect doesn't know this story...until now. Still listening to the podcast, she texted, "Ah. just heard that you weren't there. I still think you're perfect."

So, CB—this one's for you.
—Oh, and you're welcome.

To underscore the fact that I don't judge you for any little imperfections at your house, check out this post on my personal blog. And in the comments, please share some of your most embarrassing moments so I don't feel quite so terrible about myself. :)
#fromthelivingroomwithJana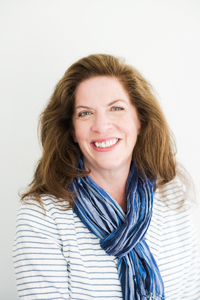 Jana Winters Parkin is an artist, writer, teacher, and adjunct art professor at UVU. She and her husband have 3 kids and 2 dogs, and she spends every day possible rejuvenating her soul in Utah's glorious mountains.
Return to the The Living Room Show Page
Link to Article