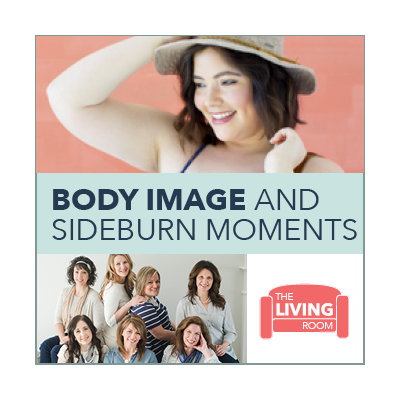 About this Show:
All women struggle with body image issues at some point or another. Loving and appreciating your body--imperfections and all--begins with a conversation. In today's show, our co-hosts start that conversation and explore what we're calling "sideburn moments" and how we turn negative feelings into positive ones. We're hoping the conversation about improving body image continues in our social media links and in future shows.
Download this Show:
http://toginet.com/podcasts/thelivingroom/TheLivingRoom_2015-08-11.mp3?type=showpage
Download the show on iTunes: http://bit.ly/TLRShowiTunes
We'd love your feedback! If you like the show, rate it and leave a review on iTunes or send us your feedback at thelivingroomradio (at) gmail (dot) com
Until next time, make sure you follow us on our social media channels and join the conversation:
TWITTER : www.twitter.com/livingroomshow7
INSTAGRAM: www.Instagram.com/livingroomsocial

FACEBOOK: www.facebook.com/fromthelivingroom

PINTEREST: www.pinterest.com/tlrradio
Recommendations from our show:
On meeting Stephanie Nielson, and hearing her say "I am not my body"
"Bodies in My Basement" blog post
"When Ugly Isn't" blog post
Special thanks to Lime Ricki for sponsoring our show! Check out their line of darling swimsuit apparel at http://www.limericki.com/
Thanks for listening and give yourself some living room, today!
Return to the The Living Room Show Page
Link to Article