This post on the Living Room's Facebook page on January 2 seems to be resonating for a lot of our readers/listeners, so I thought I'd post it here as well.
_
In Los Angeles I was living the dream and ostensibly having it all, with a handsome filmmaker husband, a historic-register house, three adorable kids, and an amazing career as designer-to-the-rich-and-famous.

Then our fourth baby arrived…stillborn. Everything came to a screeching halt. Not only did our baby pass away before she even took her first breath, but part of me died along with her. I was a complete disaster. I had no desire to meet with clients, or even turn on the computer. I needed to heal, and I only wanted to spend time with the three children I had left. Suddenly the booming business meant absolutely nothing to me. Just getting through the day was sometimes my biggest challenge.

Vromans, our local bookstore, was offering a painting demonstration as part of a book launch: Pasadena Sketchbook, by Joseph Stoddard. The book was so beautiful! It was filled with the kind of paintings I wanted to make, but couldn't quite free myself up enough to create. My sister and I joined the plein-air painting event on the streets of Pasadena, and I could feel myself starting to come back to life.

I enrolled in Joseph's Wednesday night watercolor classes at the Creative Arts Group in Sierra Madre…best therapy ever. I was usually the last one to leave…often promising to lock up if he'd allow me to stay and paint there. Don't get me wrong—I wasn't new to watercolor—I'd been painting my entire life. But it was Joe's approach—the freedom, the color, the recklessness, even—as well as the dedicated time to paint, that was slowly reviving me, one painting at a time.

At about the same time, my husband got an out-of-state job offer, and we realized we could afford to live on his salary alone. I was liberated. Goodbye, graphic design studio! No more deadlines, all-nighters, and accompanying headaches. I decided to reinvent myself as a painter.

We sent out this favorite pair of quotes in our New Year's cards less that probably factored into this miracle:

"Until one is committed, there is hesitancy, the chance to draw back, always ineffectiveness. Concerning all acts of initiative (and creation), there is one elementary truth…that the moment one definitely commits oneself, then Providence moves too. A whole stream of events issues from the decision, raising in one's favor all manner of unforeseen incidents, meetings and material assistance, which no man could have dreamt would have come his way."—W. H Murray

"Whatever you can do or dream you can, begin it.
Boldness has genius, power and magic in it!' —Goethe

This was absolutely true for me. I committed myself to become a painter and amazing things happened in a steady stream: classes, mentors, opportunities, exhibits, awards, materials, and an adjunct faculty position at Utah Valley University all sort of dropped into my lap the moment I decided to begin again…as a painter. You can see my work at janaparkin.com.

This summer I'll be a Resident Artist in Switzerland, taking a group of artists hiking and painting in the Alps. It's been more than ten years and the opportunities branch and sprout, all stemming from that one major decision. At the time I might never have dreamed it would develop into anything this big. I was merely on a quest for peace. But the Universe is an even bigger dreamer than I am. I latched on and never looked back.

#livingroomwithjana
#beginagainwithtlr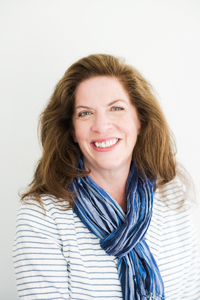 Jana Winters Parkin is an artist, writer, teacher, and adjunct art instructor at UVU. She and her husband have 3 kids and 2 dogs, and she spends every day possible rejuvenating her soul in Utah's glorious mountains. She writes at divergent pathways and exhibits her work at janaparkin.com.
Return to the The Living Room Show Page
Link to Article