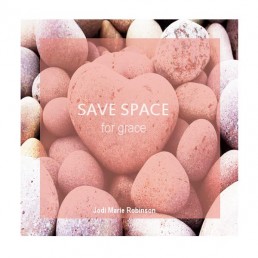 Several years ago, my family and I arrived at a river's edge. We walked single file, along the river for several yards, looking for a place to cross it. My husband spotted a shallow bend and instructed us to wait on the shoreline. He said he needed to do something to make crossing the river safer and easier for us. He needed to fill in the spaces between the rocks, because some rocks were too far apart and he didn't want to risk anyone slipping and falling.
He found three large rocks, and one by one, he carried them and dropped them into the water, next to the existing rocks, making the gaps between the rocks much smaller. After he'd finished, he motioned for us to cross. While we did, he remained nearby, standing on a rock, with his arms outstretched, hands opened, just in case any of us needed a steady hand.
The kids made it to other side, no problem. I, on the other hand, lost my balance, twice. My foot slipped into the cold rushing water and if it weren't for a steady hand grabbing me, I would have fallen down and been soaked the rest of the hike, and possibly been hurt. I felt so grateful he was there to save me from falling! Even though the water wasn't deep, it was a blessing not to hike the rest of the way wet.
Once on safely on the bank, I briefly glanced back at the river we'd crossed. Then, seeing my kids all high-fiving each other, I decided to save something to remind me of that experience So, I reached down into the water and pulled out a small, oval stone, then slipped it into my pocket.
When we returned home I set the stone on my bathroom counter with three other smooth stones I had collected from other hikes.
Months later, on Christmas day, lights on the tree twinkled. Bows and wrapping paper littered the living room floor. Wrapped in a cozy blanket, I sat and watched my kids enjoy their presents. Leading up to Christmas, there had been a fast-flowing current of pressure, the kind that always accompanies buying gifts, planning a mixture of spiritual and secular holiday traditions, amidst the demands of keeping everyday life flowing along. Sitting there quiet and observing, I received an unexpected gift iin the form of a memory. I believe it's purpose was to teach me about grace.
I was reminded of our summer hike and how we had crossed that riverbed. At first, in my mind, I saw my husband filling in the gaps with rocks so our family could cross the river, except. But then I didn't see my husband I saw my Savior.
The past year had been one of reviving, physically and emotionally, yet, instantly, my heart felt content as I recognized evidences of Christ placing stepping stones in my riverbed, each and every day, so I could continue taking care of my family, with just enough energy, hope, peace, and purpose, in spite of challenges and adversities.
God had gifted me grace.
Now it is time to continue making space for grace. So that I can LIVE IN GRACE, each and every day.
Picture yourself standing at the water's edge, looking at a river you're trying to cross. Do you see carefully placed stepping stones? The ones where God has placed in the exact places you need them? So you can get to where you are going?
It is up to you to create the space in your heart and soul to see and recognize God's grace. And how good it is.
That rock, the one I retrieved from the river's edge that sits on my counter. It no longer represents a memory of our family hike. Instead, it symbolizes how God's grace fills in the gaps and makes me a better person.
Grace fills in the gaps when we have sinned.
Grace gives us a reprieve, when challenges exhaust our reserves.
Grace is the enabling power of God that gives us the desire, ability, and hope to repent.
Grace is a rescuing power, like a flotation ring that surrounds our soul, keeping our spirits afloat whenever we've fallen into a river of devastation, discontentment, or disillusionment.
Grace steadies us so we can fully accept the Atonement of Jesus Christ.
Grace does for us what my husband did for me and my family that summer day at the river; it fills in the spaces.
I challenge myself to find stepping stones of grace daily. I want to see the miracles of grace God continually places in my riverbed of life. I desire to see and feel this amazing gift.
It is time for me to save space for grace.
#savespaceforgrace
-Jodi Robinson
Jodi shares her thoughts on grace on Facebook at https://www.facebook.com/savespaceforgrace/
She writes for The Living Room on Facebook at https://www.facebook.com/fromthelivingroom/?fref=ts
And co-hosts living room podcasts on www.fromthelivingroom.com.
Her published works include "Precious in His Sight", "A Royal Guardian", and "Women of Virtue", and other essays in various compliations published by Covenant Communications.
She is a wife, mother, avid snowmobiller, dog walker, and admits to eating Hershey kisses before breakfast.
To invite her to speak at your event, email her at jodimarierobinson (at) gmail (dot) com.
Return to the The Living Room Show Page
Link to Article