On our show we had wine maker and expert Kj Howe on as our special guest. We
talked about the wine process and what it takes to make a bottle of wine. If you
missed the show catch the podcast on iTunes. Next week I will be doing the show
live from NYC!
Here is the info about the featured items on this weeks show!
Grape Expectations is located at
1971 Whitney Mesa Drive
Henderson, NV 89014
(702) 806-3383
Next time your in Vegas, go take a look at the great winemaking going on at Grape Expectations! Once you learn about the exciting process to make the wine...your next trip to Vegas won't just be for a trip to the slot machines! You'll be back to make your very own wine! For more information about Grape Expectations go to their website www.grapeexpectationslasvegas.com
Beauty Pick of the week:
The Vanity Pillow by Plum Design
Helps prevent permanent wrinkles carved out by hours of pressure on facial tissue during sleep.
Relieves pressure on existing wrinkles on your cheeks, under the eyes and on your forehead.
Helps prevent chest wrinkles.
Allows night creams to penetrate the skin longer without rubbing off on the pillow.
Prevents breakouts caused by facial contact with oils, dirt and bacteria build-up on pillowcases from the hair and skin.
Extends the life span of lash extensions by preventing friction with your pillow.
Provides support for healing post-surgery.
Helps prevent compression of the sinuses.
Everyone will wonder what your secret is!
I absolutely love this pillow! To learn more about the Vanity Pillow and its benefits visit www.plumdesignnyc.com
Wine Pick of the Week:
Insoglio 2006 ~ A Super Tuscan blend of Syrah, Cab Franc, Merlot & Petit Verdot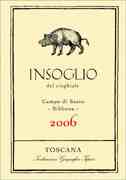 Icon of the Week: George Clooney! Why? He's George freaking Clooney and he just broke up with his girlfriend! He is hot as hell and just gets more handsome the older he gets ....love him .....George call me!
See you next week!
Please remember to visit www.sandamianofoundation.org and support their amazing work!
Return to the La Bella Vita Podcast Page