My Guest this week is Rich Christiansen - Author of the Zig Zag
Principle.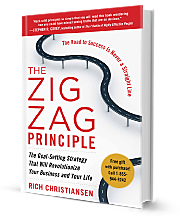 Rich describes himself as "a perfectly good business executive, turned entrepreneur."

Before becoming an entrepreneur, he was a skilled executive and market innovator in the corporate world. He was General Manager at both Mitsubishi Electric and About.com. After 20 years in the technology industry, he discovered that his true passion and talent is in launching start-up companies.

Rich has founded or co-founded 32 businesses. These ventures were bootstrapped with just $5,000 to $10,000 of starting capital. Eleven of those businesses were miserable failures, but eleven have became wildly successful multi-million dollar businesses. Rich has identified The Zig Zag Principle as his secret formula for optimizing success while minimizing failure. It is also his methodology for setting goals and living a happy, healthy life.

Using this principle, Rich is having a blast building, managing, and selling his own compilation of start-up companies. He states, "I am not sure it should be legal for one individual to have this much fun."

The Zig Zag Principle is a part of every facet of Rich's life—including his personal, professional and family life. He even teaches and empowers his own children to apply the principles to build their own successful businesses.

When the family's not starting a new venture, the Christiansens enjoy cruises, travelling the world, and spending time outdoors. They recently returned from Nepal after trekking in the Himalayas together. Rich is committed to his beautiful wife, five wonderful sons, and Nepalese daughter. They live in the spectacular mountains of Utah.

Rich received both his Bachelors in Electronic Engineering Technology and an MBA from Brigham Young University. He is passionate about educating youth in third-world countries. He has set the personal goal to help educate 1,000 young men and women before he turns 50.
The Zig Zag Principle: The Road to Success is Never a Straight Line

The Goal-setting Strategy that Will Revolutionize Your Business and Your Life

Rich Christiansen

Publisher: McGraw-Hill

Release Date: October 4, 2011

Have you ever set your sights on the top of a mountain and then started your ascent by heading straight through the trees and up the sheer cliffs? Or jumped in your car and headed to the other side of town—as the crow flies? Of course not! Because you instinctively know, just as a mighty river has to wend its way around obstacles and obstructions, that the best route from where you are to where you want to be is never actually a straight line!

In The Zig Zag Principle, Rich Christiansen applies a foundational law of nature to business management, entrepreneurship, goal-setting, and life in general as he explores why zigzagging toward our intended outcomes is far more effective than trying to bulldoze our way through whatever stands between us and our objectives.

Everything you need to know to get on the right path is here in The Zig Zag Principle:
How to identify your destination: Where do you want to go? How will you get there?
Why does Mental Capital plus Relationship Capital equal Financial Capital?
Why having a defined set of values will be key as your business finds its way?
How to add resources and hire smart – as you to turn the cash you have into fuel for more.
· Replicating your successes to bring your product to the masses.

· Protecting your resources, your family, and your sanity.



The simplicity of a straight line can be seductive. But it's not a realistic way to go about achieving your goals because you will always come upon unexpected obstacles in the road. Zigzagging requires you to be nimble and flexible, to "bootstrap," and to be able to take advantage of multiple opportunities. What it delivers is success—in business and in life—far beyond your initial plans and dreams.

Use The Zig Zag Principle to assess your resources, use them to their fullest, and keep yourself and your team motivated—all while living a life of balance.
Return to the La Bella Vita Podcast Page