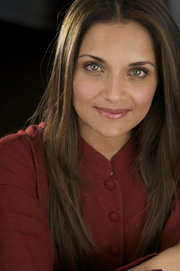 Shefali's latest book: The Conscious Parent has been prefaced by HH the Dalai Lama and endorsed by Eckhart Tolle, Marianne Williamson, Marci Shimoff and others. Learn more about her work and her book at: www.globalid.com, on Amazon, or on Facebook, please
"Like" Dr Shefali Tsabary's Conscious Parenting Page.
Shefali Tsabary, Ph.D. is a clinical psychologist with a private practice in New York. She received her doctorate in Clinical Psychology from Columbia University, New York. As she was exposed to Eastern teachings at an early age, her specialty is in the integration of this Eastern philosophy and Western psychology. It is this blend of East and West that allows her to reach a global audience, and establishes her as one of a kind in the field of mindfulness psychology.
Motherhood Talk Radio is co-hosted by Sandra Beck, Christy Holly and Rick Swanson, hosted by Toginet Radio and powered by Motherhood Incorporated. Motherhood Talk Radio would like to thank our guest who have spoken with respect to motherhood on the following topics: women's issues, parenting, relationship advice, personal growth, divorce, marriage, dating, weddings, relationships, health care, pet health, crafting, beading, relationship advice, cooking, family matters, care packages for soldiers, nutrition, child adoption, children with brain injuries, children's advocacy, autism, cancer, eldercare issues, child care issues, personal growth and parenting issues
Return to the Motherhood Talk Radio Show Page
Link to Article