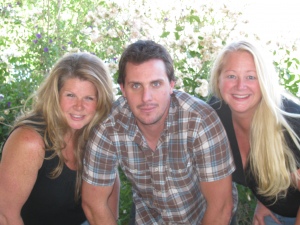 Motherhood Talk Radio hosted by Sandra Beck and Robin Boyd, and Rick Swanson presents 100 Fabulous iPhone Apps for Your Health and Fitness and the Fit to Strip Challenge.
Rick Swanson shares his latest and greatest sweat product called Sweet Sweat. Sandra Beck will share what it is like to work out with Mr. Swanson and his sweat flinging prowess. Christy Holly shares her two new hot fitness reads Preventions Walk Off Wait (too bad she didn't read them yet says Christy...Are you serious? Says Rick" Sandra pointedly ignores them both. Christy will also present Glutes! 21 Ways to Sculpt your Gorgeous Glutes Now. Listen in to hear Sandra say "Ass!" Sandra Beck plans to talk about the 100 100 Fabulous iPhone Apps for Your Health and Fitness and the ones she uses to support here last 25 pound loss!
Motherhood Talk Radio is co-hosted by Sandra Beck, Christy Holly and Rick Swanson, hosted by Toginet Radio and powered by Motherhood Incorporated. Motherhood Talk Radio would like to thank our guest who have spoken with respect to motherhood on the following topics: women's issues, parenting, relationship advice, personal growth, divorce, marriage, dating, weddings, relationships, health care, pet health, crafting, beading, relationship advice, cooking, family matters, care packages for soldiers, nutrition, child adoption, children with brain injuries, children's advocacy, autism, cancer, eldercare issues, child care issues, personal growth and parenting issues.
Return to the Motherhood Talk Radio Show Page
Link to Article