Motherhood Talk Radio stars Sandra Beck, and is hosted by Toginet Radio and RockStarRadio, and powered by Motherhood Incorporated. Motherhood Talk Radio features the powerful voices of Christy Holly, Robin Boyd, Linda Franklin, Doris Rivas Brekke, Danee Kiernan, Susan Haid, Lisa Detres and Suzann Sladcik Wilson. Motherhood Talk Radio bring you everything from the latest crafting tips to how to be sexy in your 40s to great parenting tips to moms living with cancer and most importantly how to Bounce Back with Style.
Today Sandra and Christy welcome Donna A. Lewis of Reply All, and Clare Carver of the Big Table Farm.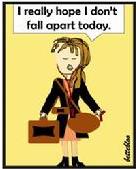 Donna Lewis is an attorney with the Department of Homeland Security. Donna litigated in the private sector for over a decade before turning her attention to legal and policy issues related to national security. Donna is not funny or interesting at all by day.
Outside of the office, Donna is an advocate on behalf of persons with disabilities and has a particular interest in the issues facing those transitioning from crisis back into the workforce.
Donna has taught legal research and writing, composition, public speaking and lectured on a variety of disability topics for entities and organizations including the University of Maryland, The American University Washington College of Law, the George Mason University Law School, and Dale Carnegie Training.
Donna can be found serving on local community boards, spoiling five ridiculously smart and funny nieces, and answering to the unreasonable demands of her little white dog Bella and her little black cat Boo. Donna is a published writer whose work has appeared in a variety of publications including The Washington Post, The Northwest Current and publications far more dry than the Internal Revenue Code.
Donna is currently writing (and drawing) Reply All, a daily comic strip syndicated by the Washington Post Writers Group.
For more about Donna, visit www.replyallcomic.com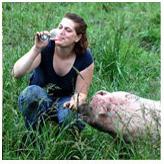 Big Table Farm is the collaborative effort of Brian Marcy and Clare Carver.
We are a winemaker and an artist, we grow and produce what we love to eat and drink.
The farm and winery is named after their desire to provide a gracious and welcoming table for themselves and friends, with a cornucopia of hand-crafted food and wine. Ambitious as it is, they have launched a winery and are establishing a working farm, where they raise pasture poultry, pigs, cows, and egg-laying chickens. Brian and Clare also keep a large garden, working towards a managed intensive grazing system of farming that builds the soil, sequesters carbon, and moves towards a healthy, sustainable and diverse farm.
In addition to partnering with Brian to market the wine and manage their 70 acres, Clare is also a painter and wine label designer. Clare's fine art is represented in Galleries in San Francisco and Sonoma and now in Carlton OR. Clare has designed wine labels for over 50 wineries from Oregon, California and Washington. Her labels have recieved multiple awards including america's top ten wine labels (S.F. Chronicle, '06) her winery clients inculde (just to name a few) Beaux Freres, Delicato Family Vineyards, Grace Family Vineyards, Miner Family Vineyards, Patton Valley Vineyards, Resonance Vineyards, Love and Squalor Winery and Phelps Creek Vineyards.
For more information, visit www.bigtablefarm.com
Motherhood Talk Radio hosted by Sandra Beck airs every Tuesday at 3 pm pacific, 6 pm eastern on Toginet.com. Sandra Beck is the host of two Radio Shows: Military Mom Talk Radio and Motherhood Talk Radio. An active contributor and participant in many charities, Sandra Beck strives to make the world a better place for today's and our future's children. Near to her heart are Toys for Tots, World of Children and Children Uniting Nations. Sandra Beck was born in a small town outside ofBuffalo,New York. She attended Northwestern University Medill School of Journalism, and earned both her Bachelor's Degree in Journalism and her Master's Degree in Advertising.
Return to the Motherhood Talk Radio Show Page
Link to Article