Motherhood Talk Radio continues with its series on numerous topics for women with Tracey Costan and her series on Movement.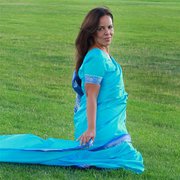 Tracey first started taking belly dance classes in 1998 at Anisa'sSchoolofDancein Sherman Oaks. From the very beginning, she fell in love with music, the costumes and the dance itself. With no prior formal dance training she trudged along trying to keep up with all the dance moves and the timing but after a few months, I got the hang of it and was taking up to 3 classes a week.
She eventually started performing in restaurants and bellydance events throughoutSouthern Californiawhile always taking dance workshops at UCLA and at the dance school by visiting professional dancers from around the world. She danced even through her pregnancies and eventually moved out toActon5 years ago and began teaching classes out of her home. "
"I have been teaching enrichment classes at the local schools for 2 years now and enjoy teaching this age group. I try to incorporate a unique style of modern Egyptian, Arabic and Spanish dance moves into my choreographies. I like using a variety of music, dance moves and musicians for performances. My goal is to teach this very feminine, beautiful and difficult dance in a community that has never experienced this before," Tracey shared recently.
Motherhood Talk Radio hosted by Sandra Beck airs every Tuesday at 3 pm pacific, 6 pm eastern on Toginet.com. Sandra Beck is the host of two Radio Shows: Military Mom Talk Radio and Motherhood Talk Radio. An active contributor and participant in many charities, Sandra Beck strives to make the world a better place for today's and our future's children. Near to her heart are Toys for Tots, World of Children and Children Uniting Nations. Sandra Beck was born in a small town outside ofBuffalo,New York. She attended Northwestern University Medill School of Journalism, and earned both her Bachelor's Degree in Journalism and her Master's Degree in Advertising.
Return to the Motherhood Talk Radio Show Page
Link to Article