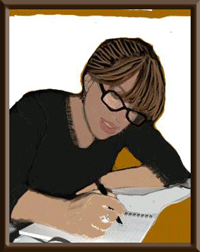 Donna Lewis is an attorney with the Department of Homeland Security. Donna litigated in the private sector for over a decade before turning her attention to legal and policy issues related to national security. Donna is not funny or interesting at all by day.
Outside of the office, Donna is an advocate on behalf of persons with disabilities and has a particular interest in the issues facing those transitioning from crisis back into the workforce.
Donna has taught legal research and writing, composition, public speaking and lectured on a variety of disability topics for entities and organizations including the University of Maryland, The American University Washington College of Law, the George Mason University Law School, and Dale Carnegie Training.
Donna can be found serving on local community boards, spoiling five ridiculously smart and funny nieces, and answering to the unreasonable demands of her little white dog Bella and her little black cat Boo. Donna is a published writer whose work has appeared in a variety of publications including The Washington Post, The Northwest Current and publications far more dry than the Internal Revenue Code.
Donna is currently writing (and drawing) Reply All, a daily comic strip syndicated by the Washington Post Writers Group.
For more about Donna, visit www.replyallcomic.com
Motherhood Talk Radio stars Sandra Beck, and is hosted by Toginet Radio and RockStarRadio, and powered by Motherhood Incorporated. Motherhood Talk Radio features the powerful voices of Christy Holly, Robin Boyd, Linda Franklin, Danee Kiernan, Susan Haid, and Lisa Detres. Motherhood Talk Radio airs live every Tuesday at 6 pm eastern, 3 pm pacific on Toginet Radio and can be downloaded on iTunes or at MotherhoodTalkRadio.com.
Return to the Motherhood Talk Radio Show Page
Link to Article