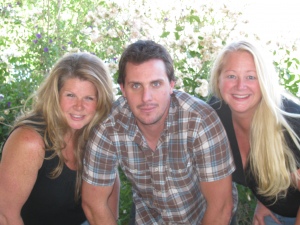 Christy Holly, Rick Swanson, Sandra Beck of Motherhood Talk Radio
(Los Angeles ) Tune in July 13th at 3pm pst at www.toginet.com or check Motherhood Talk Radio out at www.itunes.com. The good, the bad and the ugly will be revealed as Christy Holly, Rick Swanson and Sandra Beck talk about how they are doing in the 1st annual summer Fit to Strip Challenge.
Last week we heard the girls talk about fitting into summer clothes and feeling good at swim parties and bbq's. Stupid Diet Guy was on hand to lend the man's point of view and was summarily dismissed by the girls because he eats what he wants and doesn't gain a pound. The girls struggle with balancing time to work out and their children – while Stupid Diet Guy merrily heads to the gym unencumbered.
This week however, the trio is called to the carpet about their Taco Bell, Jack in the Box and Wendy's visits along with a check in regarding their diet soda habits by nutritionist, trainer and college professor Rona Brynin. All four make their home in Acton, California a rural horse community outside of Los Angeles.
Tune in each week at 3pm pst on Toginet.com or catch up with the show on itunes or www.MotherhoodTalkRadio.com where you can hear the podcasts. Motherhood Talk Radio is powered by Motherhood Incorporated and hosted by Toginet Radio.
Return to the Motherhood Talk Radio Show Page
Link to Article