Jodi Marie Robinson lives life in layers, like the Italian ice cream Spumoni. She juggles, family, volunteering, speaking, and writing. Her published works with Covenant Communications include Precious in His Sight and A Royal Guardian. Several of her essays are included in Art of Motherhood, A Mother's Prayer, With Wondering Eye, and For Heart and Soul. In 2004, Jodi was named Salt Lake County's Volunteer of the Year for her motivational classes taught at House of Hope. Mentoring women recovering from addiction has been a passion of hers for 14 years.
She sees beauty in imperfection and believes everyone has a higher purpose and destiny. She shares her passion for volunteer work and community service on Utah's top-rated, KSL's Studio 5 program. Her website www.SHARELOVESERVE.com offers creative ideas to make a difference.
At home, her kids and their friends know she doesn't mind that her house is often a gathering place. She's a believer in Chinese fire drills, late night ice cream runs, and eating raw cookie dough. Occasionally, she joins the kids' slip-in-slides down her back hill or karaokes a favorite pop song while carpooling (to her teenagers shagrin).
She's been married to her husband, Christian, for 24 years and loves that he can fix anything! Together they have four children (ages 10-19). Her oldest is serving a mission for their church in Seoul, Korea. Their family enjoys snowmobiling, hiking, biking, four wheeling, and vacationing in a tiny, Idaho town called Paris.
http://www.shareloveserve.com/
https://www.facebook.com/jodi.m.robinson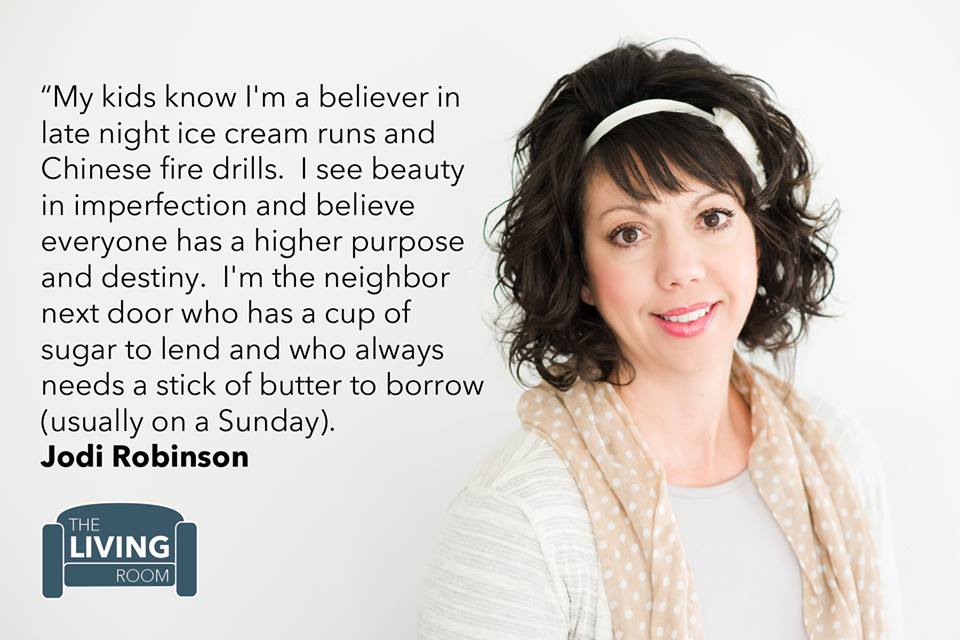 Return to the The Living Room Show Page
Link to Article