About this Show:
Sometimes in the middle of a crisis, loss, or hardship, it's so difficult to remember what joy feels like (or even what "okay" feels like). We want to share some stories with the advantage of retrospect, to remind us all that there is light at the end of the tunnel, and a rainbow waiting to brighten even the stormiest of days—that sorrow really can turn to joy.
Download this Show:
http://www.podtrac.com/pts/redirect.mp3/www.toginet.com/podcasts/thelivingroom/TheLivingRoom_2015-10-13.mp3?type=podpage
Download the show on iTunes: http://bit.ly/TLRShowiTunes
We'd love your feedback! If you like the show, rate it and leave a review on iTunes or send us your feedback at thelivingroomradio (at) gmail (dot) com
Until next time, make sure you follow us on our social media channels and join the conversation:
TWITTER : www.twitter.com/livingroomshow7
INSTAGRAM: www.Instagram.com/livingroomsocial

FACEBOOK: www.facebook.com/fromthelivingroom

PINTEREST: www.pinterest.com/tlrradio
Today's Quote: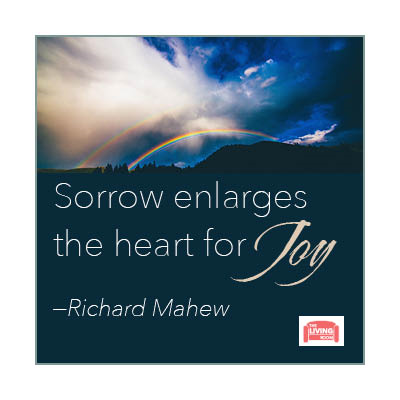 Reccomendations from today's show:
Jacob 4:3
3 Now in this thing we do rejoice; and we labor diligently to engraven these words upon plates, hoping that our beloved brethren and our children will receive them with thankful hearts, and look upon them that they may learn with joy and not with sorrow, neither with contempt, concerning their first parents.
​https://www.lds.org/scriptures/bofm/jacob/4.3a?lang=eng​
The Cure for the Common Life by Max Lucado
"Your joy is your sorrow unmasked. And the selfsame well from which your laughter rises was often times filled with your tears. And how else can it be? The deeper that sorrow carves into your being, the more joy you can contain." Khalil Girban
Return to the The Living Room Show Page
Link to Article