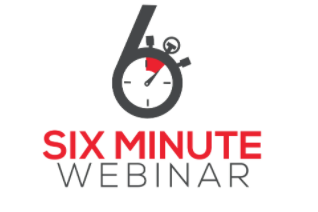 On today's show, "Dandy Don" Mcgrath, Bill Heinrich and Jim Grant shared with excitement the BRAND NEW "SIX MINUTE WEBINAR" that is officially sponsored by Speakers Pathway Coalition.
The Six Minute Webinar is a powerful marketing and sales tool that enables small business owners to quickly and clearly articulate their product, so they can have more sales and more profit.
https://www.sixminutewebinar.com
https://www.facebook.com/Six-Minute-Webinar-109756704105997
The show began with them sharing the "ROOTS"of HOW the Six Minute Webinar came into existence starting from a very humbling scenario.
It all began with high hopes when Don and Jim planned to deliver some great Speaker Training in Phoenix for maybe 50 people. Well, the announcements some did not go out and the few that did went out late. Only about 12 people showed up.
You can imagine the disappointment they felt, but being true troopers, they decided to put on the VERY BEST SPEAKER TRAINING they could.
Then something exciting happened.
"Dandy Don" came up with a brilliant idea!!! An idea that will be HEARD AROUND THE WORLD!!!
He told Jim, look we've got a small group, so let's give them as much value as we possibly can. Let's give each person a chance to get on stage, get some experience and polish their performance and due to the limit of time to ensure quality, Don decided that each speaker could only get 6 minutes to deliver their individual presentation to include their opening, the content of their business, then close and present their individual offer.
The attendees LOVED IT!!! The excitement reverberated throughout the hall and the ENERGY FLOWED like lightning throughout the small group.
The group was SUPER EXCITED and encouraged the NEXT SPEAKER...just to hear them on stage. Videos were made, Applause was VERY LOUD...it filled the entire building. Everyone was ALL SMILES, and SUPER ENCOURAGE with EXCITEMENT....that they...YES...THEY COULD DO THIS!!! Attendees were EAGER to get ON STAGE!!!!
One attendee later told Don that she LOVED this SIX MINUTE TALK she gave...in fact, she loved it so much she used it to speak on other stages!!!
She was so successful that she told DON her NEW....Six MINUTE TALK...was her personal ATM MACHINE!!!! She GAINED many NEW CLIENTS!!!!
This was the humble beginning that sprouted the SIX MINUTE WEBINAR that will now be heard AROUND THE WORLD!!!
During the broadcast, each one of the three speakers shared their excitement over the reaction.
This is the very same EXCITEMENT they received with the Pilot Group selected to "test" the SIX MINUTE WEBINAR!!!
"Your Future Is Now" is sponsored by Speakers Pathway Coalition. Training for TEDx Talks, Speakers, Authors, Internet Marketers, Networking, How to Craft Your Talk using StoryTelling. For more information and to receive YOUR FREE COMPLIMENTARY GIFTS ...just go to https://SpeakersPathway.com
Thank YOU for Tuning In and Sharing!!!
Have a Blessed Weekend, Jim Grant
iTunes: https://podcasts.apple.com/us/podcast/your-future-is-now/id1459574690
YouTube: https://www.youtube.com/channel/UCjfyd0kYQUJcVN0YTSztLLw
Podcasts: https://toginet.com/podcasts/yourfutureisnow/?s=yourfutureisnow
Return to the Your Future is Now Show Page
Link to Article