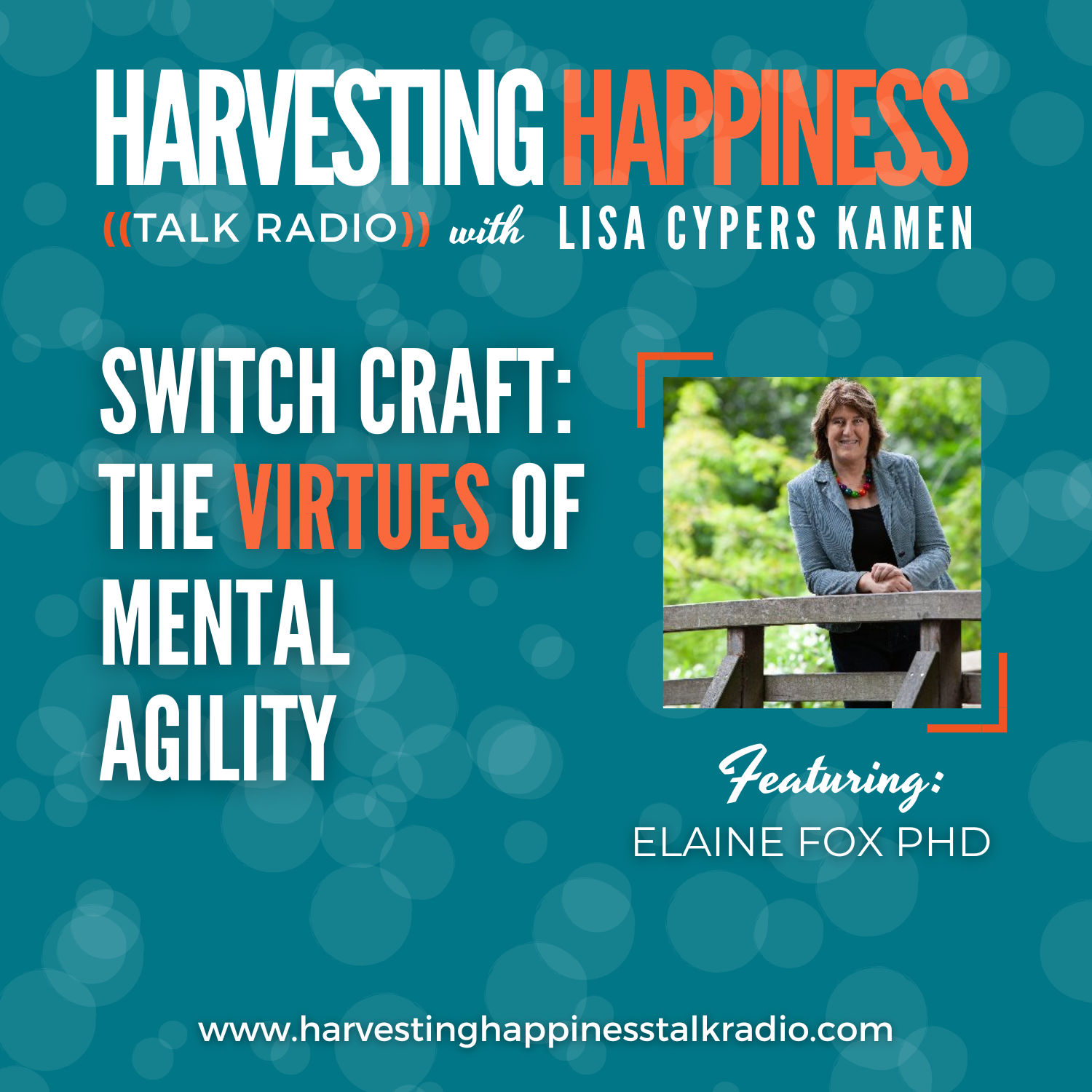 How open are you to new experiences? Have you found that with age comes a fear of learning new things? Research finds that being willing to admit that we may be wrong about truths we previously held while maintaining confidence is a central tenet of resilience. To discover some practical tips for keeping mental arthritis at bay, Harvesting Happiness Podcast Host Lisa Cypers Kamen talks with Elaine Fox about the role of intellectual humility and psychological agility. Elaine is the Head of the School of Psychology at the University of Adelaide, Australia, and the author of Switch Craft: The Hidden Power of Mental Agility. She describes the concept of Switch Crafting and how it is used to increase longevity and satisfaction in life.
Elaine Fox PhD — Switch Craft:
Based on her book, Elaine explains the meaning of Switch Crafting and why it is important to help us thrive. [4:06]
The Four Powerful Psychological Talents from Elaine's book, Switch Craft. [8:59]
Openness to experience and intellectual humility keeps mental arthritis at bay and builds resilience. [15:12]
In her book, Rainy Brain, Sunny Brain, Elaine explores why some people are optimists and some are pessimists. [24:18]
About Lisa's guest:
Elaine Fox, PhD is a psychologist, author, and the Head of the School of Psychology at the University of Adelaide, Australia. Prior to her move to Australia, Dr. Fox founded and directed the Oxford Centre for Emotions & Affective Neuroscience (OCEAN) at the University of Oxford, a renowned research center exploring the nature of resilience and mental well-being. A cognitive psychologist by training, she is a leading mental health researcher combining genetics, psychology, and neuroscience in her work. Dr. Fox also runs Oxford Elite Performance, a consulting group bringing cutting-edge science and psychology to those at the top levels of sport, business, and the military. Her 2012 book Rainy Brain, Sunny Brain is an international bestseller. SWITCH CRAFT (HarperOne) is on sale Sept. 6, 2022.
"We can teach old dogs new tricks." - Lisa Cypers Kamen
Return to the Harvesting Happiness Podcast Page