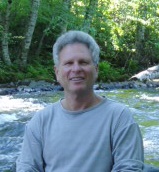 He specializes in the practice of Anger Management, Stress management and Somatic psychology. He works with individuals, couples, and families as well as leads groups.
Steven Shaps MA. Is a licensed California (#39654) & Washington State (LF60083981) Marriage & Family therapist with a Masters Degree in Counseling and Spiritual Psychology from the University of Santa Monica.
He integrates a unique blend of mind/body teachings of both east and western psychology, combining EMDR, Eye movement Desensitization, Ericksonian Clinical Hypnotherapy, Buddhist meditation, Bio-energetics, Somatic s, Cognitive Behavioral Therapy, movement, breath, mindfulness and family systems therapy. Steven is also trained as a Coach in the Sedona Method. Somatics
Steven teaches and leads seminars nationally. Currently he is teaching at Portland Community College, Portland, Oregon and Northridge Hospital, Northridge, California.
He has extensively traveled throughout India, Afghanistan, Pakistan, Sri Lanka, Thailand, Malaysia, British Columbia, and the Charlotte Islands, British Columbia. Steven has also studied the mind-body healing techniques of the East and Native American traditions.
As a successful trained artist, poet and writer, he offers a unique approach combining, transpersonal systems and body mind therapies.
Steven has been influenced by Drs. Kathlyn & Gay Hendricks, Drs. Mary & Ron Hulnick, Gabriel Roth, Dr. Gottman, Dr. Ronald Alexander, Zen meditation, Buddhism, Vipassana, Yoga, Vedic (non-dual), Carl Jung, Jon Cabot Zinn, William Reich, Milton Erickson, MD., Christine Caldwell, Ph.D., Sadona Method, Release Technique and Native American Tribes, Piute and Haida as well Vedanta Advaita approaches.
Learn more about Steven at www.stevenshapsmft.com
Find your Happiness with Lisa Cypers Kamen every Wednesday at 9 am PST/12 pm EST on Toginet.com! For more information, visit Lisa's website, www.harvestinghappiness.com .
Return to the Harvesting Happiness Podcast Page