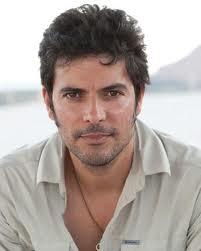 Determined to be an actor, Garcia migrated to Hollywood and moved into a friend's basement. Jsu's first break came when he auditioned for the TV show Fame and got the part. He then landed a role in Wes Craven's Nightmare on Elm Street in which he appeared opposite Johnny Depp. This was followed by an appearance in Universal's Gotcha opposite Anthony Edwards and Linda Fiorentino, and then in quick succession in features such as The CottonClub, Wildcats, Vampires in Brooklyn, Candyman III: Day of the Dead, Predator 2 and Oscarwinning Traffic, where he played Benjamin Bratt's brother.
In 2002, Jsu had two co-starring roles: that of Mel Gibson's heroic buddy in Randall Wallace's We Were Soldiers and a villainous Communist guerilla who battles good guy Arnold Schwarzenegger in Andrew Davis' Collateral Damage. In 2003, Garcia stars in the popular indie film Klepto, followed by a major starring role in John Hamburg's Along Came Polly, opposite Ben Stiller, Jennifer Aniston and Philip Seymour Hoffman in 2004, and then a costarring role with John Leguizamo in Sueño (2005).
He was then chosen to participate in the Sundance Lab (2005) where he worked on a project called Tiny Dancer and worked with Philip Seymour Hoffman, Sally Field, and was coached one-on-one with Robert Redford in an intensive personal one hour session. Garcia then landed this same role in which he worked on at Sundance, in the feature film TinyDancer that was filmed in 2006.
In 1998, he began his own production company partnering with long time friend and spiritual teacher John-Roger in the creation Scott J-R Productions, and the pair have since written and produced six short films and two features. Garcia and John-Roger's first feature film Spiritual Warriors was described as the 'Spiritual Movie Hit of 2008' and screened in 53 cities across 22 countries and was officially selected for international film festivals in Toronto, Tel Aviv, Cairo, Cartagena, Beverly Hills and Hamburg.
Garcia made his directorial debut co-directing The Wayshower (2012) with John-Roger, filmed primarily in Utah, and with major scenes shot on location in Morocco, France, England, Peru and Spain. The Wayshower stars Academy Award nominee Eric Roberts, Peter Stormare and Academy Award nominee Sally Kirkland and Garcia also plays the leading role as 'Jesus'. Garcia worked closely with Academy Award winner Dane Davis (TheMatrix) on the sound design, and was mentored by Academy Award winning Director Stephen Soderbergh throughout the directing and editing process and the result is an independent film with strikingly high production value. The Wayshower won Best Ensemble Cast at the FirstGlance Film Festival in Hollywood, and continues to screen at film festivals in 2011.
Visit: http://jsugarcia.com/ for more information.
Visit: http://thewayshower.com
Nothing gives Happiness like a FREE gift!
http://harvestinghappiness.com/free-ebook/
Find your Happiness with Lisa Cypers Kamen every Wednesday at 9 am PST/12 pm EST on Toginet.com! For more information, visit Lisa's websites, www.hh4heroes.org
www.harvestinghappinesstalkradio.com, and www.harvestinghappiness.com
Find more happiness this Wednesday!
Call in during the show at 877-864-4869
Return to the Harvesting Happiness Podcast Page