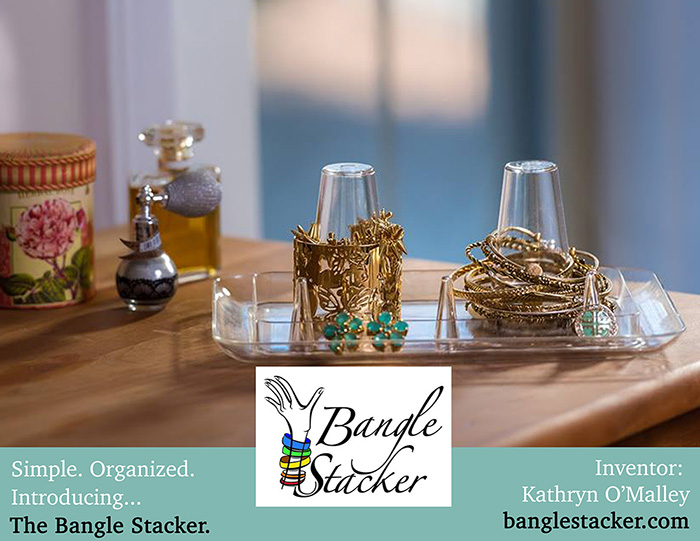 Kate O'Malley's innovation goes from "Not today, Mom" to The Today Show!
Like so many products, the Bangle Stacker's roots can be traced to a simple problem: how to organize jewelry efficiently.
One rainy day in July 2014, Kate O'Malley tried to enlist her daughters in a project that tackled the issue. Neither was interested in the least, so O'Malley grabbed duct tape to secure two golf tees and a pair of toilet paper rolls atop a plastic plate.
What initially prompted eye rolls from her tween-age children has developed into an eye-catching product called the Bangle Stacker featuring five vertical posts that hold bracelets, rings and other accessories.
It has made a substantial splash, including a January appearance on a NBC's popular Today program, segment led by Stephanie Sisco, a Real Simple magazine editor.
"That was such a validation of my instincts", O'Malley says. "There are so many people, particularly women, whose dressers are a mess because they don't have an efficient, sleek way of keeping their jewelry organized without stashing it in a box."
Specifically, no other product enables the display of jewelry, rings, hair and other accessories neatly atop a dresser. In addition, one of the competitive advantages of the Bangle Stacker, in terms of appeal to retailers, is that it can be stacked in sets of 20 and therefore occupy precious little retail space.
O'Malley, a longtime television advertising executive before becoming a stay-at-home mom to her two daughters and one son, previously demonstrated a penchant for practical invention. In 2007 she created the I'm Hot You're Not dual insulation non-electric blanket. After procuring a patent for the blanket in 2012, she produced I'm Hot You're Not, which addresses the dilemma posed by so many hot-blooded/cold-blooded partners with contrasting insulation needs.
In early 2015, production began on the first samples of the product. By August, barely a year after that rudimentary rainy-day design, O'Malley began receiving large-quantity shipments.
Made of acrylic, and coming in clear and black options, the Bangle Stacker is a 10-inch wide, 7-inch long tray with five vertical posts: two larger (which can fit a bracelet with a diameter as large as 3¾ inches) and three smaller (especially useful for rings and earrings).
The base retail price is $12.99. Soon, O'Malley plans to offer a wider variety of customized prints and textures at additional price points.
It is also available for purchase at www.BangleStacker.com and www.Amazon.com, meaning customers are organizing their jewelry and rings from across the country.
Listen to our interview with Kate O'Malley LIVE on May 10th at 11:00 AM CST, or download the podcast at your convenience.

Return to the Innovation Divaz Podcast Page