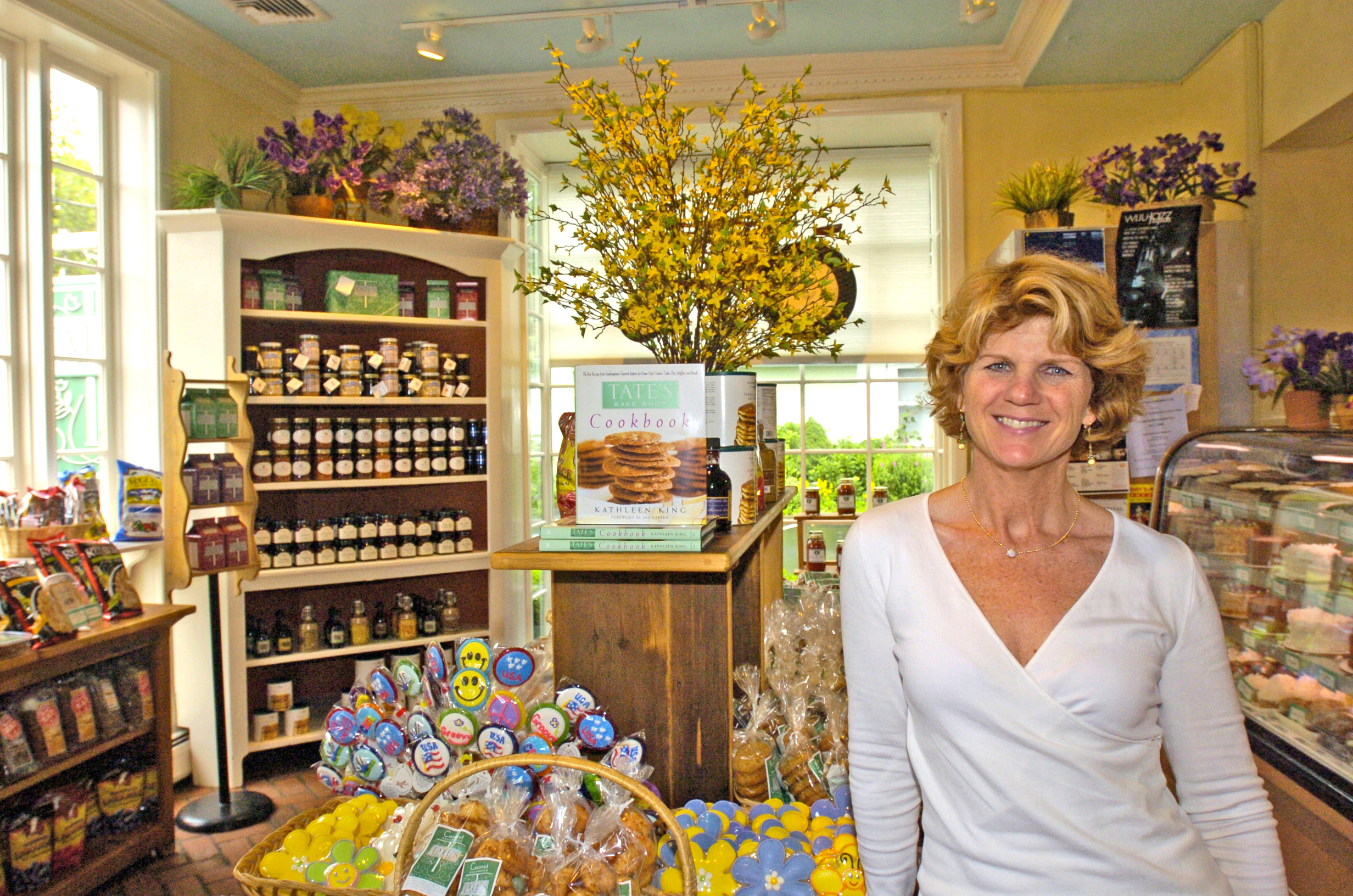 Kathleen King
Founder and Baker- Tate's Bake Shop
When the magazine Every Day with Rachael Ray set out to find the country's best chocolate chip cookie, they sampled almost 50 different versions…and "…the best tasting chocolate chip cookie" came from Tate's Bake Shop in Southampton, New York.
Kathleen King has been baking professionally since she was eleven. Born and raised on North Sea Farms in Southampton, she learned to early that if she wanted something, she would have to work for it.
By the time King was in high school, she was baking 12-hours a day, and perfecting her thin, crisp, buttery and caramel tasting chocolate chip cookies. She was so successful; her baking put her through college: SUNY College of Agriculture and Technology at Cobleskill, New York.
When King was 20, she opened her first bakery and within one year she had made a name for herself in the fashionable communities on the south fork of Long Island.
Twenty eight years later. King is still baking. Her chocolate chip cookies continue to be a favorite, and she has added scores of other recipes, many of which have been published in her second book: Tate's Bake Shop Cookbook (St Martin Press: 2005, $24.95) and subsequently reprinted several times.
Today, Tate's Bake Shop in Southampton (90 miles east of New York City) is as The New York Times recently noted "…a destination- worth putting miles on the odometer."
Tate's Bake Shop is named after King's father who still operates the North Sea Farm where she was raised. Her cookies, muffins, and cakes are sold throughout the United States as well as by mail order: www.tatesbakshop.com. Each month Kathleen King shares a new recipe on her website with friends and fans. These days when you tell someone that you are going to the Hamptons for the weekend, they are almost certain to ask, "Bring me back something from Tate's".
No matter what it is, as long as it's from Tate's, you can be sure it's made fresh, with no artificial ingredients, and has been tested and tasted by Kathleen King herself.
Return to the Paying It Forward Podcast Page