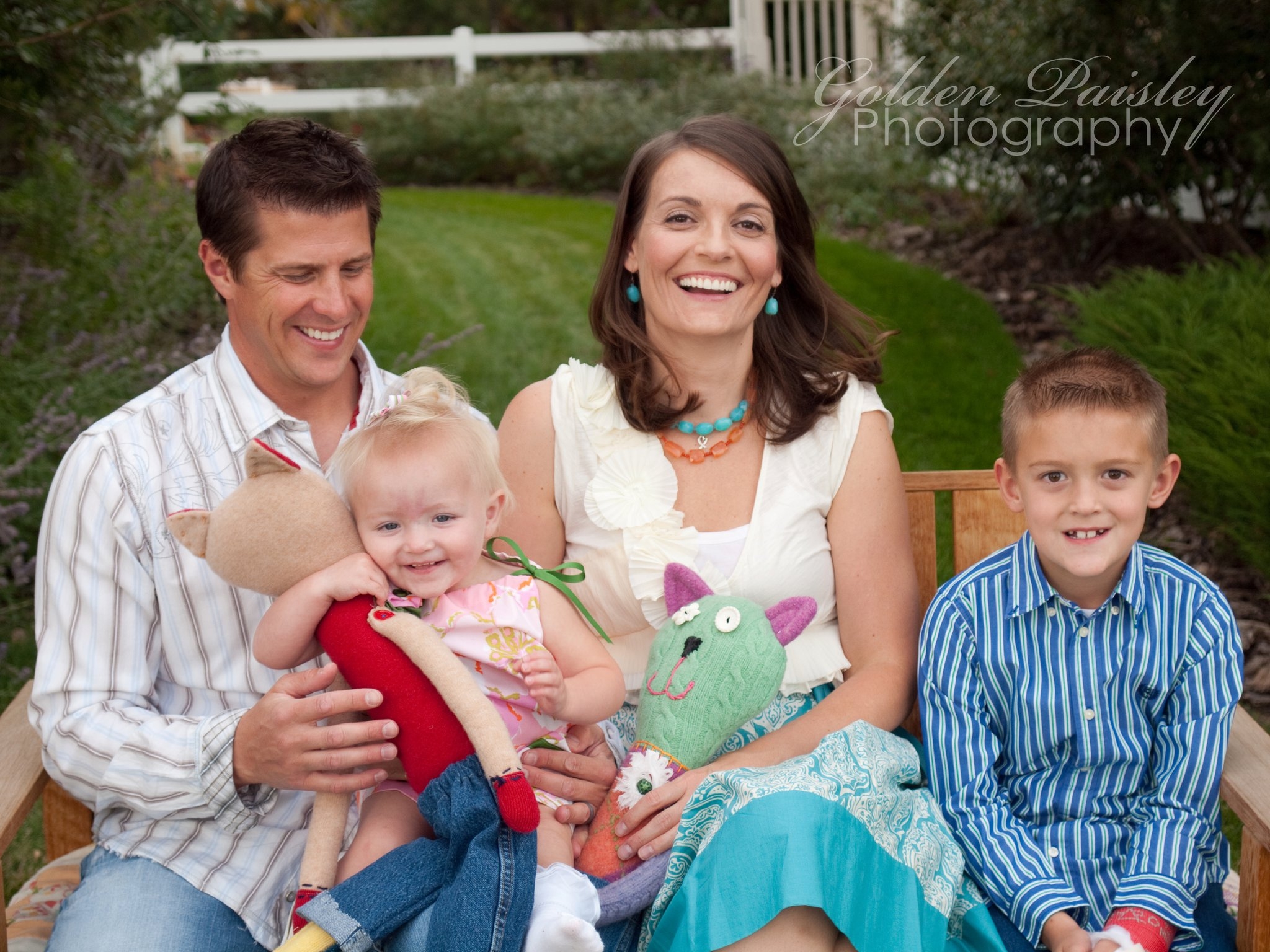 The word "no" is not a part of Lori Holliday's lexicon. Nor are the phrases "that's enough," "I quit" or "it's finished. For Lori, the founder, president, brainchild and resident 'Mama Hen' behind 2 Red Hens Studio, nothing is ever done until it's overdone, and good enough never really is. A modern day renaissance woman with an eye for fashion and knack for domesticity, Lori Holliday draws inspiration from her childhood. Raised on a farm as number thirteen in a family of fourteen children, Lori's early memories are naturally larger than life and full of color, with just the right amount of charm and whimsy. Today, those memories have translated into Holliday's coveted collection of apparel and home accessories, each more colorful, whimsical and inviting than the last. Once best known as a brand of vibrant diaper bags and accessories, the 2 Red Hens Studio line is Lori's newest labor of love.
A former engineer with a PhD in physics, Lori Holliday did not always know she'd be a designer. But she did know that she loved to create and find new uses for everyday objects. With a natural ability to look at things from a fresh perspective, Lori now channels that talent not into math and science, but into the 2 Red Hens Studio collection of repurposed lines – from flower brooches made of upcycled prom and bridesmaid dresses, to men's belts crafted from decommissioned fire hoses, all the way to girls clothing fashioned from vintage bed linens.
Yet it is Lori's tenacity and passion for life that 2 Red Hens is truly made of. A cancer survivor, Holliday has spent the majority of her adult life hearing the word "no" – and politely refusing to listen. First diagnosed with Cervical Cancer at the age of 20, Lori was told by countless doctors that she would never have children. Eleven years later, Lori and husband Mark welcomed son Luke into their family. Five years after that, daughter Harper made them whole. And while she wouldn't trade it for the world, the ride has not been smooth. During this time, Lori has fought six additional recurrences of cancer – and won every time.
Today, Lori not only sits at the helm of her growing company, but also as the head of a nonprofit organization that she has personally founded, Have Pearl Vaccine (HPV). Have Pearl Vaccine is committed to ending cervical cancer, a disease that is entirely preventable. The organization strives to educate girls and women on the facts about Cervical Cancer, and the resources and vaccines that, unlike twenty years ago when Lori was first diagnosed, are now available to prevent this tragic disease. With every item that 2 Red Hens Studio lovingly makes by hand, we are getting one step closer to ending Cervical Cancer. For good.
Lori Holliday and her family live in a picture perfect farmhouse in Colorado filled to the brim with collections she has cultivated over her lifetime. Collections that have now become the materials that the 2 Red Hens Studio lines are made of....literally.
notable achievements…

Lori Holliday founded 2 Red Hens in 2004. Soon thereafter, it became a coveted line of upscale diaper and handbags for moms looking to hang on to their sense of style along with their bottles and booties. Holliday's original designs have enjoyed a cult-like following and have been sold in major retailers nationwide including:

v Nordstrom

v Amazon.com

v Target.com

v Babies R Us

v Bloomingdale's

v Fred Segal

v diaperbags.com

v csnstores.com

Holliday has also sold her line into over 2,000 well-known specialty stores during its tenure.

The industry quickly took notice of Lori Holliday's design-savvy. She has designed and licensed products for powerhouses including:

v Infantino IcO. Line (2007)

v Ameda Breast Pump Bag (2009)

v Qiagen, Cervical Cancer awareness bag (2006)

v Glaxo Smith Klein, Cervical Cancer awareness bag (2009)

Eventually, Holliday's collection needed the manpower and muscle of mass production. She single-handedly lead all sourcing and management efforts as the company's production moved to Asia in 2008.


Today, all products and fabric designs under the 2 Red Hens umbrella are original and proprietary to the company.
Return to the Paying It Forward Podcast Page