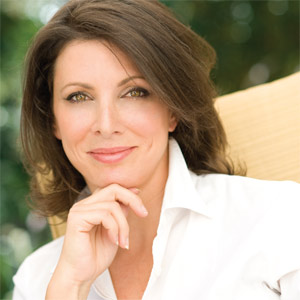 Kathy Korman Frey
Founder

"She awoke to siren-like ring of her phone on the bedside table. "3.00 am" glared through the darkness from the alarm clock. "This can't be good," she thought. While handling one personal crisis after another, how would she ever find time to grow her business? Her personal obligations were in a constant death match with her own self-confidence and goals."
This is a typical start to a Hot Mommas® Project case study, a new generation of teachable story and virtual mentor for women and girls. Kathy Korman Frey, an award-winning entrepreneur, community leader, educator, and curriculum developer is the founder of the Hot Mommas® Project: The world's largest collection of women's case studies. The power of story is digitally delivered in this free, cutting edge, crowd-sourced online library driven largely by women in social media. The Hot Mommas® Project is the recipient of a Coleman Foundation Case Award and has been profiled by The Washington Post Magazine, NPR, and featured in Prentice Hall textbooks through which winning Hot Mommas Project cases are distributed globally each year.
This research side of the Hot Mommas Project (HotMommasProject.org) is housed at the George Washington School of Business, Center for Entrepreneurial Excellence and represents Frey's work as part-time faculty and Entrepreneur in Residence. She teaches Women's Entrepreneurial Leadership, which is the recipient of a National Excellence in Entrepreneurship Education Award.
In 2010 HotMommasProject.com was launched to bring the valuable research library of women's case studies to the public. The Hot Mommas Project "Sis U" seminar series measurably increases confidence and key success factors in women: 66% in three hours, and 200% in a full length program. Imagine being able to walk into a room thinking one way, and walk out thinking another way. This the Hot Mommas Project Sis U goal. So far, it's working. A digital classroom is launching in 2012.
The polar opposite of "digital" was taking place 25 years prior when Frey (then Korman) was filling large paper three-ring binders on the Virginia State Senate floor as a page. She was living at the Marriott, walking down Broad Street in Richmond each day, and doing her homework at night after work. A few years later, upon graduating the University of Virginia with an English degree, Frey serendipitously wound up in the business consulting world. The firm was looking for foreign language speakers, she spoke Italian, and the rest is history. Frey switched from Shakespeare to spreadsheets and got a mini MBA in four years while working as an analyst and moving up through the ranks to management. Fortune 500 companies ranging from Motorola to Hallmark to Pfizer were the clients at Markowitz & McNaughton, a competitive analysis/merger and acquisition firm which was one of the best in the business, and was later acquired.
Frey was a now a full-on business junkie, went on to attend Harvard Business School for her MBA, and afterwards joined the National Council on the Aging Development Corporation as its Chief Operating Officer. Frey's long-time interest in the senior citizen's area merged with the business side of things for her post-MBA job. There, she was part of the senior management team doing everything from helping to raise $8 million in strategic venture funds, to working on getting White House support for new endeavors, to assisting with starting or turning around projects in the eldercare space, to creating the ground-work for BenefitsCheckUp.org – a benefits-matching service which today provides a 200-to-1 ROI.
After marrying an entrepreneur, and writing a Harvard Business School case on him during her MBA program, Frey wondered: "Could I do it? Could I abandon the pats on the head to run my own shop?" Frey also thought about the potential flexibility this might deliver should they start – cough cough – start producing "Small Freys" in the near future. Frey later started Vision Forward, a firm comprised of highly skilled part-time consultants. These were the original "Hot Mommas". The firm specialized in one and two-day planning bootcamps, and gained notoriety as one of the original flex-work companies as well its 94% success rate. Clients include AARP, Discovery Communications, Entrepreneurs Organization, Chief Executives Organization, the US Department of Justice, and the US Federal Drug Administration. Frey would send out emails to the consultants with the subject line "Calling all Hot Mommas" to see who was interested in the project she had just landed. By this time, Frey had started teaching at GW. Students were much more interested in the Hot Mommas than her consulting firm. So, one day, she decided to write a story – or "case study" – about one of them….and now, we're right back where we started…That is how the Hot Mommas Project began.
The rest of the official stuff: Frey earned her MBA from Harvard Business School and her B.A. in English from the University of Virginia where she received the Seven Society's James Earle Sargeant award for community service. She is a featured contributor on Maria Shriver's Women's Conference site, the author of the NFIB Young Entrepreneur Foundation curriculum taught to 40,000 junior high and high schoolers a year, a Harvard Business School case author, and dubbed one of "America's Top Business Bloggers" by the HSM World Business Forum. She is a 2010 Washington Business Journal Women Who Means Business Awardee, and is the DC National Association of Women Business Owner's 2011 Woman of Distinction. Frey is a regular speaker on the topics of women's confidence, leadership, mentorship, and work-life balance. Frey is a former board member of the Alzheimer's Association, National Capital Area, and currently serves on the board of United Women in Business and The Closet. She is a fourth generation Washingtonian including the people who arrived here on a boat, and lives with her husband, two children, and dog in a state of semi-controlled chaos.
Contact Kathy: Twitter
For speaker requests, email support@HotMommasProject.org with:
Date and venue (description of event and audience)
Are you interested in bringing SisU, Guerrilla Mentoring, or our

Digital Classroom

to your group or a Keynote or other.
Return to the Paying It Forward Podcast Page