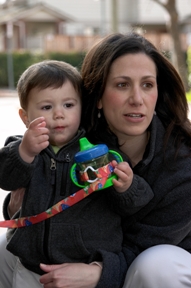 In 2005, working mother Sari Crevin created the very first prototype of SippiGrip in San Ramon California. Sari was becoming frustrated when her 1-year-old son, Jake, would throw his sippy cup to the floor from his high chair, stroller and car seat. Sari was constantly picking up the cups that were either getting dirty or getting lost. "Necessity really was the mother of invention and I could not find any product, in stores or on-line, that met my needs," Sari remembers. Hence, the SippiGrip was born.
After an evolution of prototypes, research and testing of the SippiGrip, Sari formed BooginHead LLC. in September 2007 and dedicated herself to launching the new and useful product for parents - and for parents everywhere she has helped end the cup throwing game!
BooginHead LLC. is currently located in Bellevue, Washington where the sister product, PaciGrip was created in 2008. BooginHead's PaciGrip is a universal pacifier holder in matching SippiGrip colors. Although not a new concept, Sari Crevin's product is fashionable, universally compatible with all pacifier brands and is the most affordable product available. PaciGrip is BooginHead's best selling item.
The third product, Splat Mat, a unique 48" round reusable mat in three fashion forward colors guaranteed to catch every spill, was introduced last year at The ABC Show.
BooginHead continues to move forward in creating several other solutions based products that are geared towards simply making parents' lives easier! Crevin says that "the basis for all the products I create need to fit a certain criteria: is it solving a problem, is it fashionable and does it break the bank? In this economy it is a need vs. a want so creating functional products that meet a need and look more expensive than they are is a great niche."
Crevin's products have won multiple awards including 2 iParenting Media Awards, Creative Child Magazine's Seal of Excellence Award and was chosen to participate in Target's "2008 Parent Invented Products Program." SippiGrip and PaciGrip are sold in retailers nationwide, online and internationally, including Target and Babies "R" Us.
Crevin graduated from the University of Arizona where she majored in Human Resource Management with a degree from the School of Business. She is also a certified Life Coach and focuses on career coaching. She is one of the few people whose career derived from her major, "by day" she a Human Resources Manager in the X-Box Division at Microsoft. She lives in Bellevue with her husband and their two young sons.
Return to the Paying It Forward Podcast Page