The Lady Beind America's Best Chocolate Chip Cookie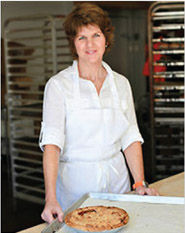 Kathleen King, founder and owner of Tate's Bake Shop, began baking when she was just eleven years old, selling small batches of her crisp, buttery chocolate chip cookies off of a fold-out card table on North Sea Farm, her parents' Long Island farmstead.
In 1980, when she was only 21, Kathleen rented a space her mother spotted and opened her first bake shop. She developed a full line of traditional American baked goods, perfecting every recipe herself and baking each dessert from scratch. Named after her father, Tate's Bake Shop is the result of Kathleen's love of baking and keen eye for quality.
Voted the Best Bakery in the Hamptons for many years, Tate's Bake Shop is a destination for locals and tourists alike. Kathleen's personality is in every inch of the store, from the fresh flowers to the carved wooden tables. "People feel very comfortable coming here," Kathleen says, "and that's part of the experience of coming to Tate's Bake Shop. It just goes with chocolate chip cookies and apple pie." With a community of loyal customers and lines that stretch out the door, Tate's Bake Shop is, as the New York Times noted, "worth putting miles on the odometer."
Kathleen continues to raise the bar for herself and the baking community with her award-winning desserts. The recipient of the 2011 Gold sofi Award for Best Cookie, Kathleen's all-natural cookies are sold in gourmet retailers nationwide. As a follow-up to The Tate's Bake Shop Cookbook (St. Martins Press, foreword by Ina Garten), she released her latest baking book, Baking for Friends, in 2012. Baking for Friends offers over 120 scrumptious recipes, along with time-saving tips for the at home baker.
Combining the best of ingredients and a passion for baking, Kathleen King's desserts are truly an American tradition.
Return to the Paying It Forward Podcast Page