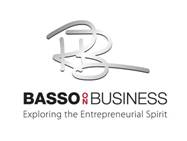 Rob Basso
Entrepreneur on a mission to help other small businesses and get American
businesses back on their feet.
Rob Basso has a mission, no a passion, to help small businesses navigate their way to success. Rob is committed to providing information and solutions to help small businesses and entrepreneurs get back on track, overcome challenges, create jobs and rebuild the American economy. At BassoOnBusiness.com, he is building a community to inspire the entrepreneurial spirit and create a destination where business owners can get important tools and information that are vital to their success.
Rob is also the executive producer and host of a unique web business program geared towards assisting small businesses in overcoming challenges. Each program is paired with Working Lunch with Rob, a monthly lunch event where the newest episode of Basso On Business is premiered. The business owners that attend then offer further advice and solutions to the business profiled, providing powerful insight to create positive change in their organization.
From the time he was in college Rob has been involved in many business ventures, including an ice cream truck route in a highly competitive and contested area of Long Island. More recently he was co-
founder of a newly created national bank and has invested in multiple entertainment projects. By developing creative ideas and taking risks, he has grown successful businesses and contributed to the success of many others. As the owner of the New York region's largest independent payroll processing firm, Advantage Payroll Services (www.liadvantage.com), he has been involved with business owners and thousands of small businesses. With over 2,000 clients, he has his finger on the pulse of small business and has gained a wealth of knowledge; now he is sharing this knowledge with struggling small business owners.
Rob is a respected small business expert and sought after speaker who is regularly called upon by the regional and national media to comment on small business related issues and trends. Rob has appeared on
Fox Business News and regional news programs. He has been interviewed by Entrepreneur and Time magazines and is frequently interviewed by leading newspapers including Newsday, The New York Times and the Long Island Business News. He has appeared in national Associated Press stories and is a frequent guest on radio and TV programs across the nation.
Join the conversation at BassoOnBusiness.com.
Return to the Paying It Forward Podcast Page