Messages from the Heart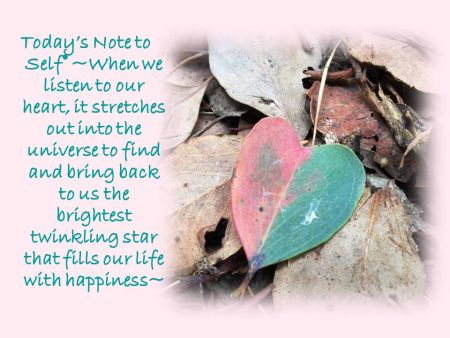 Today's Note to Self® ~When we listen to our heart, it stretches out into the universe to find and bring back to us the brightest twinkling stars of happiness and joy ~
This week's show is the 2nd in a series of Matters of the mind and Matters of the Heart - a very important topic for so many beautiful people out there. Do I know what I'm talking about? I sure do! A few short years ago my heart was literally torn apart and I didn't think I would ever be able put it back together again. But slowly and surely as I gained an understanding of how my mind and heart operates within this amazing Universe, I was able to pick myself up and start over again - redefining, reinventing and rebuilding my life from the inside out.
I discovered how to mend my broken heart and begin to believe that my dreams were not only possible, but absolutely 'a done deal'! I took control of my mind and, in the stillness between my breathing in and breathing out I began to truly listen to my heart and the beautiful messages it was whispering to me. It had been there all the time but I was so busy trying to figure out what to do by listening to my mind which, by the way, only seemed to want to talk stress, worry and fear. Not once did it mention anything about the possibility of actually creating happiness and success. No, it seemed totally focused on why it couldn't happen ... and particularly, why I couldn't do it!
So what is it about the heart that can create such fabulous change? On this week's show we chat about:
Matters of the heart
Some basic facts about our heart ... not the scientific stuff, but the emotional stuff
Heart energy
How to listen to your heart and go with what comes
And overcoming the mind chatter that likes to get in the way and create fear
More at www.geraldineteggelove.com Also available on Itunes.
Return to the Geraldine Teggelove Live Show Page
Link to Article